Follow my blog with Bloglovin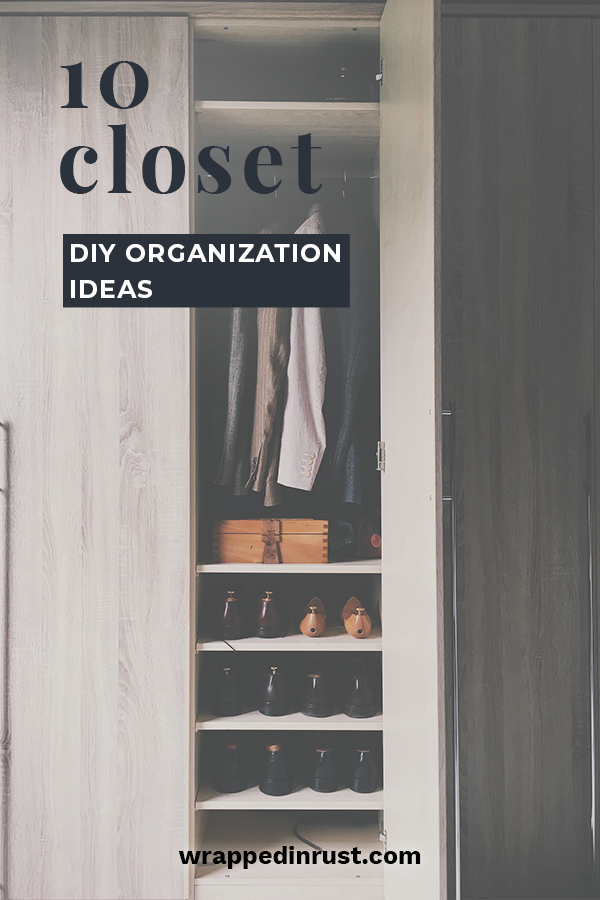 Is your closet a little too small? Or is it big enough, but lacking in organization — making it a big mess? Closet organization is important if you want to be able to find everything on a busy morning, and not have a wrinkled mess. But since any bedroom closet can get a little crazy, here are some DIY organization hacks to help you tame the monster.
1. Space-Saving Hangers
Slim hangers can save you a surprising amount of closet space. Get rid of chunky hangers in favor of slim ones. Also look for hangers with double rails that can hold more than one item…especially pants. And in your kids' closets, using appropriately sized hangers for their clothes can help, too.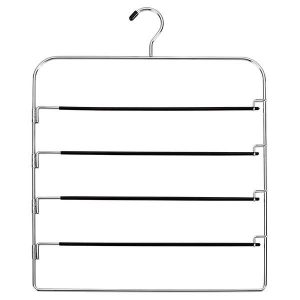 2. Double Bar
Adding a second bar can literally double your closet space. You can move your original bar up higher if necessary — even if you need to keep a stool handy. Wouldn't it be worth it for all that extra space? Another alternative is to use a hanging bar that suspends from your existing closet bar and lets you expand your storage.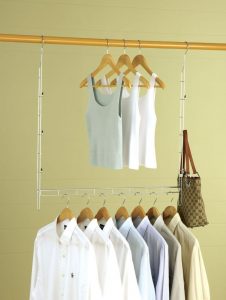 3. Show Shoes the Door
The back of your closet door is likely underused for storage — if it's used at all. A robe hook might be handy, but think of using a simple shoe storage hanger or bars across the door for your high heeled shoes. You just cleaned up a bunch of floor and shelf space!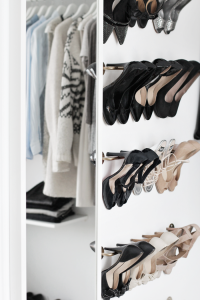 4. Use Wasted Space
Even 12″ of wall space can be helpful in organizing things like shoes, scarves, purses, and hats. Think outside the box by placing hooks, racks, hanging storage, or even towel bars in those little-used areas. A towel rod with curtain clips is a smart way to hold all kinds of things.
5. Keep Shoes Somewhere Else
Storing shoes under your bed in a dedicated shoe bin, or even a shallow cardboard box, will free up that closet space for all your sweaters and jeans. Or think outside the box and use one of these shoe storage systems made to go under your bed skirt.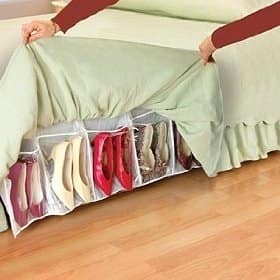 6. Rotate Seasonal Items
Using plastic storage bins in your storage room, or a neat trunk or bench to store out-of-season clothing is a great way to save closet space. When the weather changes, rotate things in and out so your closet only has to hold what you're likely to wear.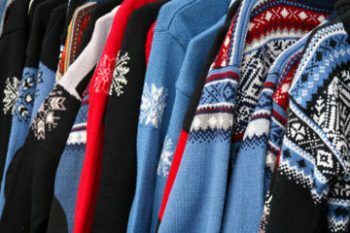 7. Hang Bras
Cute bathroom hooks are perfect for hanging all your bras on a little wall space, on the back of the closet door, or even behind your dresses where they won't be out in the open — if that's how you want it.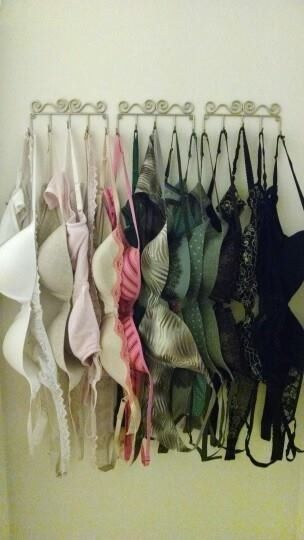 8. Declutter
Decluttering your closet should be a must-do task at least once a year. Donate or sell things that don't fit, aren't your style anymore, or don't make you feel good about yourself. Life's too short…just unload the excess.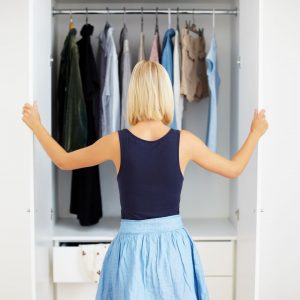 9. Use Shelf Dividers
That long shelf at the top of your closet it useful, but not if you just throw stuff up there. Using shelf dividers can actually help that shelf hold more, since it'll be neat and tidy. You'll be able to see what you have, too.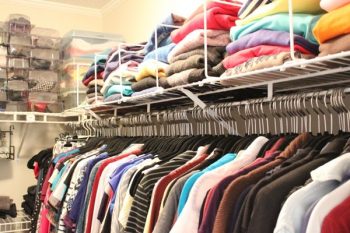 10. Use Baskets
Little wire baskets — even spice racks — can prove mighty handy in your closet. Hang them on the back of the door or a tiny wall space to hold your accessories.