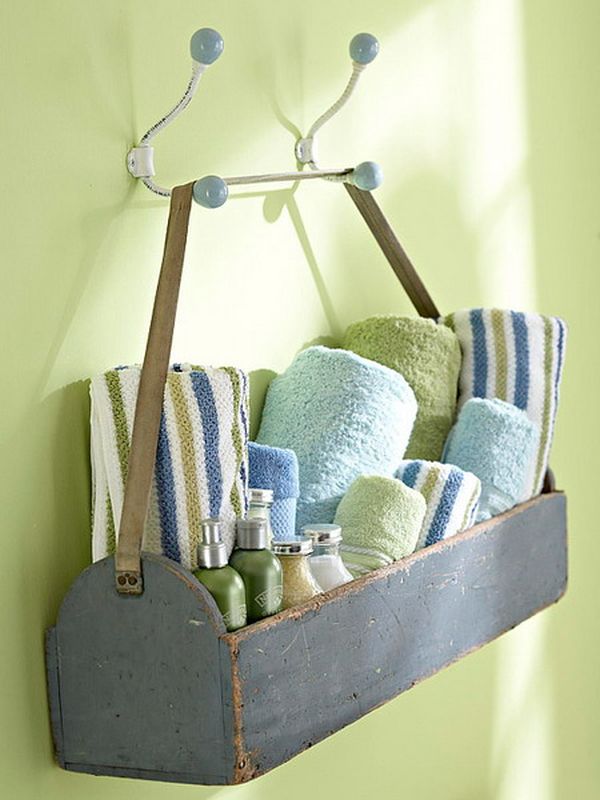 Follow my blog with Bloglovin
Properly storing towels in the bathroom can be a challenge, especially if your bathroom is small. You might be wondering about where to hang towels in your small bathroom, or storing towels in bathroom, without ruining your bathroom's aesthetics.
You may think that draping your towels anywhere in the bathroom is one of the easiest ways to hang towels in the bathroom, but it's a bad idea for several reasons. Doing this could make your bathroom look messy, and also might expose your towels to mold or bacteria.
You need a dry and cozy place to store your towels, without ruining your bathroom design and taking up too much space. Sound like an impossible task?
Fear not: here are 14 creative and practical ways to store towels in bathroom. From the best towel-storage items on the market to easy DIY towel storage, these ideas will leave you in awe. So, let's get into them!
Storing Towels In Bathroom
1. Get the Right Towel Bar

Most towel bars take up too much space, but not this 24" double towel bar. A solid double towel bar like this is an excellent option to store your towels without sacrificing space.
Simply mount the bar on your bathroom wall, and you can drape multiple standard towels at once. Space-saving towel bars like this keep your bathroom organized and add a simplistic allure.
2. Replace Your Horizontal Towel Rack

It's time to dump your horizontal towel rack and opt for a space-efficient vertical option like this metal towel rack from Walmart. This vertical rack, with its 6-tier design, is perfect for mounting on small corners or wall spaces in your bathroom and can hold as many towels as you want.
The open design makes it easy to store and retrieve your towels.
This rack adds a touch of class to any bathroom, no matter the size or design. It's the perfect towel storage option if you are living in a condo, apartment, camper, dorm, or even an RV.
3. Go Vintage With Your Towel Holder
Want to keep things natural and simple? Then this Boho Vintage wooden towel holder, which is made from natural wood and real leather, might be the best option for your bathroom.
Not only does this portable towel holder take up minimal space, but its simple design is excellent for minimalist bathroom décor. If you like a crisp and organized bathroom look, then this wooden towel holder will help you pull that off.
4. Work In Some Handmade Charm
Got some space right next to your bathroom mirror or shower? Then it might be time to try out some bathroom towel racks. If you are a DIY fan, you can build a handmade towel rack. These types of racks can easily fit into small spaces that would have been useless.
But, if you aren't too excited about getting your hands dirty, you can get this handmade rack that can easily be mounted on even the smallest of spaces in your bathroom. This rack looks chic and can hold multiple towels.
5. Get Creative with Your Towel Holder
Whoever said you had to sacrifice beauty for space efficiency? This towel holder gives you the best of both worlds—putting a creative spin on towel storage while saving (a whole lot) of space. Want to make a statement with your bathroom? Then this is the towel holder for you.
6. Get a Space-Saving Tiered Towel Bar
Let's face it – traditional towel bars are out of vogue. But, if you want to complement your bathroom space with a towel bar, this space-saving towel bar is a must-have. This bar adds a minimalist vibe while keeping your towels organized and your bathroom neat.
Add that to the fact that this towel bar rotates 180 degrees, making it convenient to drape and pick your towels from any angle.
7. You Can't Go Wrong with Nautical
Nothing says stylish bathroom more than this nautical-themed towel rack. This rustic-style rack can store 6 bath towels, and while you can pull off this kind of towel rack as a DIY project, you might find it more convenient to purchase the ready-made version.
This rack can easily be mounted above your toilet or any small space in your bathroom, giving you ample space to move around while keeping your bathroom organized.
8. Use a Basket for Storing Your Towels
Ever thought of getting a basket for your towels? You can use bathroom baskets for your towels and maximize your bathroom space. If you've got some space on your countertop, you can place a basket on it and use as a rolled up towel holder.
This copper wire basket is one of the most compact storage ideas for towels in the bathroom. But, if you don't want to purchase baskets for towel storage, you can repurpose any regular basket you have at home.
9. A Work Ladder for Towel Storage?
If you've got an old work ladder laying around the house, then it might be time to bring it into your bathroom. Thanks to their narrow frames, ladders can easily fit into tight spaces, and this helps you maximize bathroom space. So, if you're in the mood for a little DIY spree, this might be a unique towel storage idea to take on.
10. Repurpose a Box for Towel Storage
Old wooden boxes that you have at home can come in pretty handy when you need to come up with space-saving storage ideas for your towels. You can attach a leather strap to a box and hang it on your wall.
And voila! you have a classic tool-style box in which you can keep your rolled towels in the bathroom. You never have to worry about how to store towels again. How cool is that?
11. Think Outside the Bathroom
Just how creative can you get with your towel storage ideas? We'd say – crazy creative. There are countless bathroom towel shelf ideas to try out. You can repurpose old kitchen shelves or a baker's rack to store your bathroom towels.
These items can conveniently fit into small nooks in your bathroom, and hold your towels without tarnishing your overall decor.
12. Out with the Wine, In with the Towels
You can use your favorite wine rack as a towel storage option—this is one of the many decorative towel ideas you can try. A sturdy wine rack, like this one, can conveniently hold up to six standard towels, giving your bathroom a sophisticated look and feel. You can easily mount this rack in small spaces near your shower or bathroom mirror for easy access.
13. Under the Bathroom Sink Towel Storage
OK, this might not be the sexiest or most original idea, but you can probably reorganize the space under your bathroom sink to fit several well-folded towels.
14. Store Towels in Vanity Drawers
Again, not the most original towel storage idea, but your bathroom vanity drawers can be a terrific place to store towels. You may need to clean them out and do a little reorganizing.
Storing Towels In Bathroom: Conclusion
You might have the perfect bathroom interior decor, but how you incorporate your towel into the whole flow can make or mar the entire look. Thankfully, there are tons of ready-made and DIY towel storage options to choose from without having to sacrifice space or aesthetics.
Which of these creative bathroom towel storage solutions are your favorites? And do you have any other creative ideas on how to organize bathroom towels? Let us know in the comments.
This article was originally published on 02/16/2017 but has been updated.