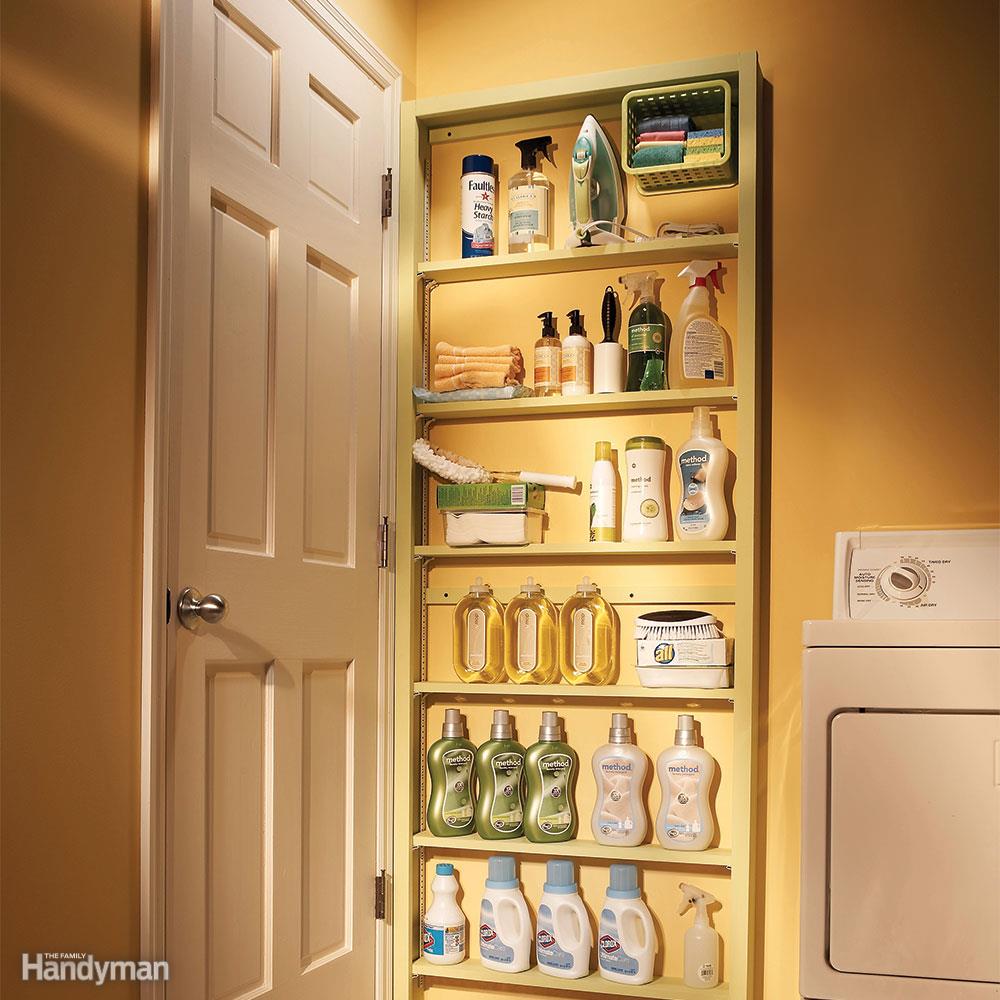 Follow my blog with Bloglovin

If you're anything like me, your laundry room tends to turn into a big catch-all. My laundry room is small and doesn't have nearly enough storage, plus it doubles as a mud room. Maybe I should pay attention to these 10 handy ways to tame the mess and keep my laundry room neat and organized. Maybe you should, too!
1. Use the Space Behind the Door
The space behind the door of your laundry room — any room really — is often overlooked and underused. Instead of letting it go to waste, build in a set of shallow shelving and mount it right on the wall. Calculate the space between the door hinge and your wall, and deduct one inch from your measurement. This is the maximum depth your shelves can be. But it turns out it's also a great depth for keeping things like fabric softener, extra rags, and dryer sheets.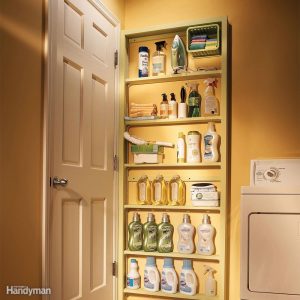 2. Ironing Station
Many laundry rooms don't have a good space for your ironing board. Try creating an ironing station with a foldable ironing board. Or, hang your ironing board with a couple of strong but simple hooks. You can even create a total ironing station if you install a simple shelf above the hooks for storing your iron and spray starch.
3. Skinny Cart Storage
These units are meant to fit right between your washer and dryer. They're on wheels, so you can easily pull them out when you need to reach something, then tuck it right back in. Store your detergent, iron, and other necessities out of the way.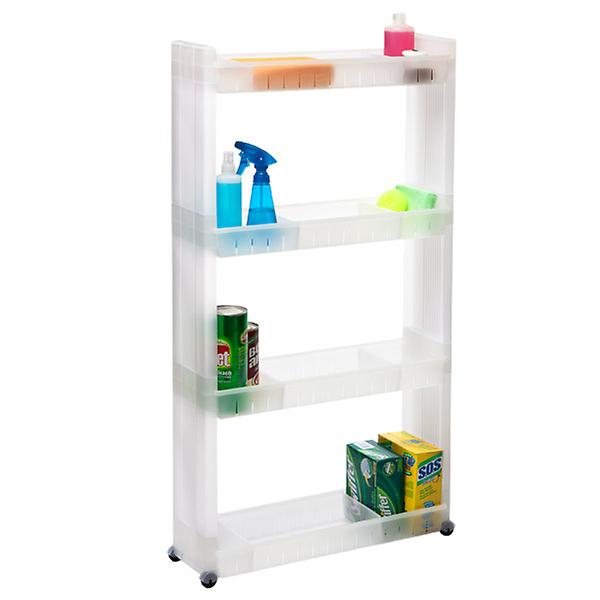 4. Milk Crate Cubbies
Remember those milk crates that used to be delivered to your kindergarten classroom — or am I just old? Well in any case, those crates can easily be hung a wall to create compact, but deep storage for all kinds of laundry room needs. These are arranged diagonally, but you can just make a straight row if you like.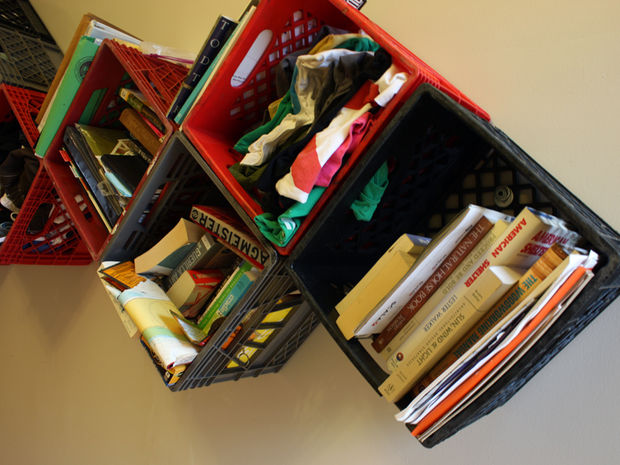 5. Towel Bar Hanger
Don't have space to hang things up in your laundry room? If you have a cupboard, you can install a simple towel bar at the bottom. Voila! You've got a hanging space.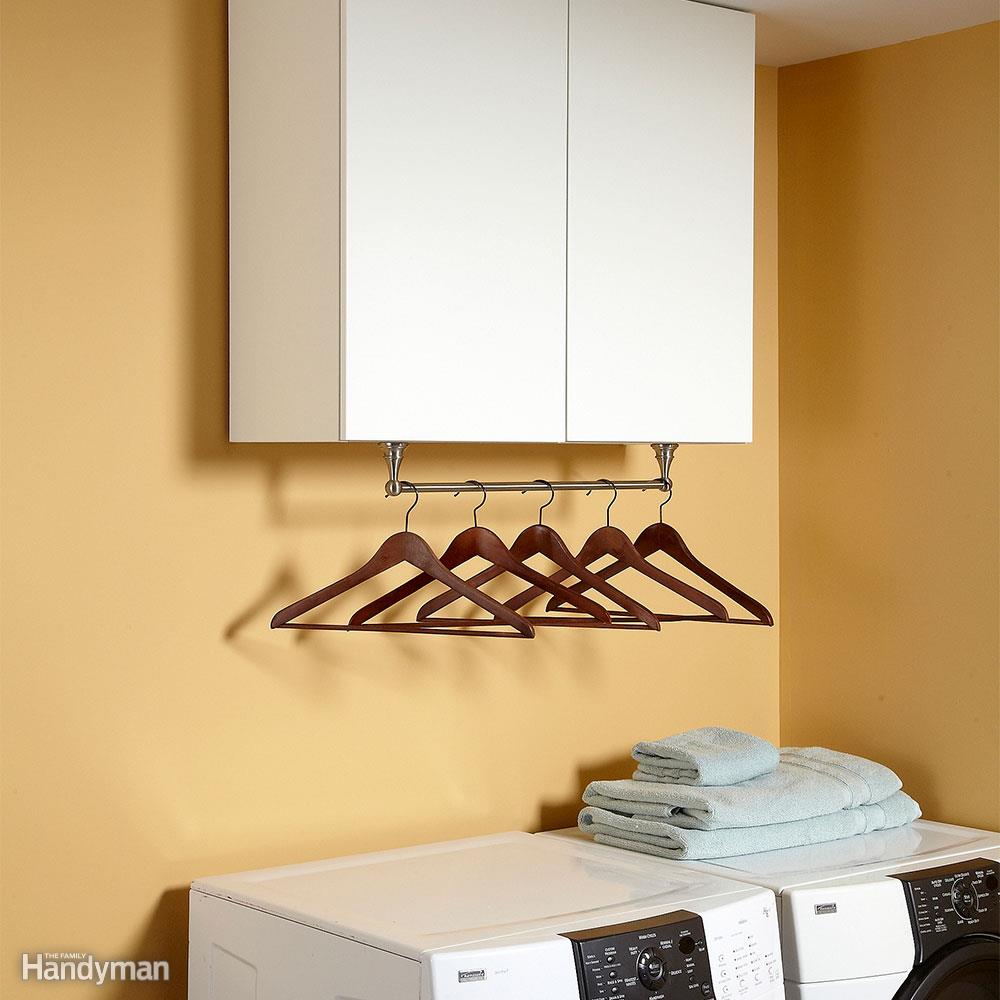 6. Over-the-Machine Storage
You know those over-the-toilet storage units you can get for your bathroom? Well I'll be a monkey's uncle — you can do the same thing for  your washer and/or dryer. This one is built from 1×10 and 1×3 boards. Simple, cheap, and super effective.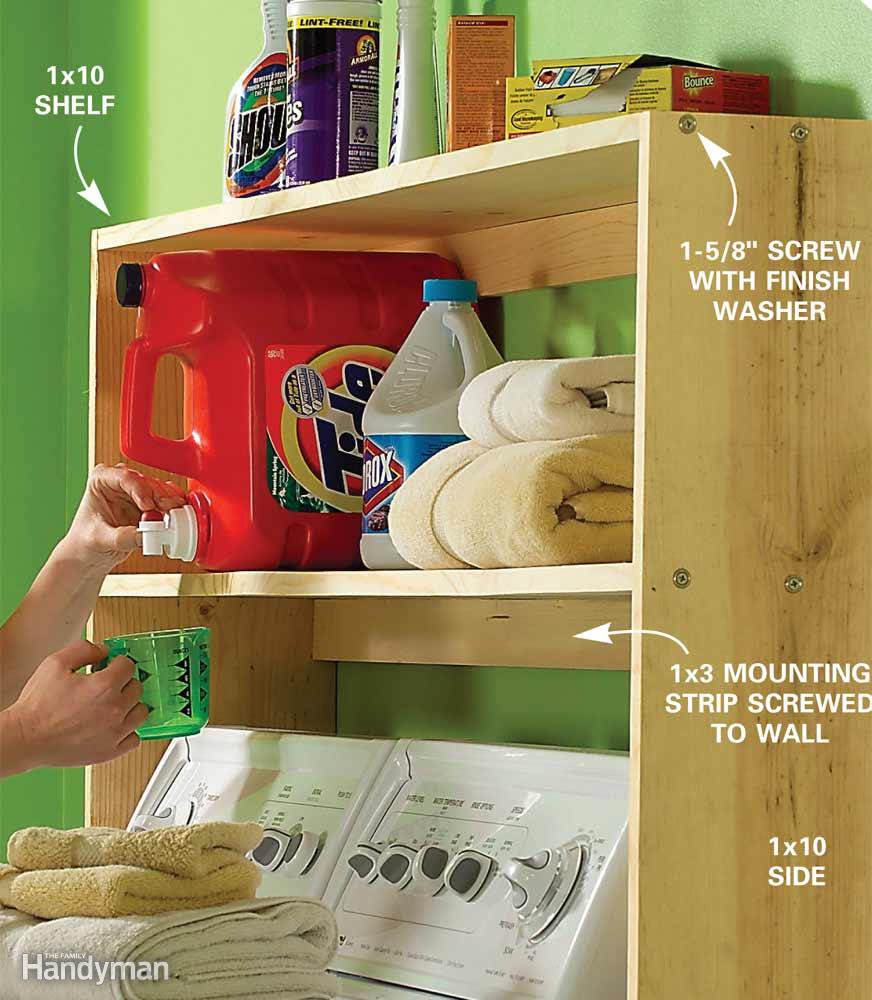 7. Basket Tower
Ever wondered what to do with all those laundry baskets? Build them a tower! This can be as simple as a properly-sized shelf. It'll help you sort laundry and keep all those bulky baskets out from under foot.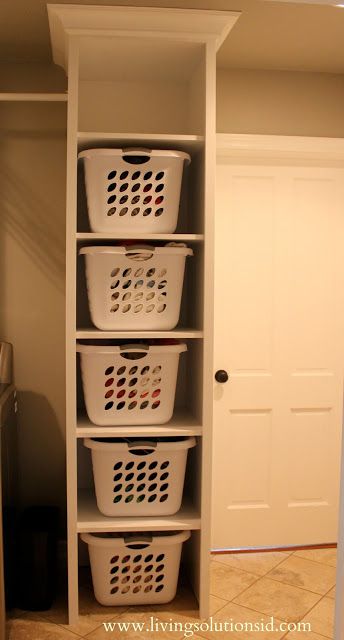 8. Total Revamp
With shelving backed right into the corner, a bar for hanging, and some baskets, you can redo your whole laundry room and make use of all the wasted space.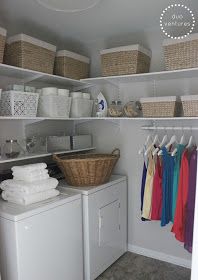 9. Collapsible Drying Rack
Every laundry room should have space to hang things that need to air dry. And with a collapsible rack like this one, you'll never have to drape those shirts or skirts all over the room to let them dry.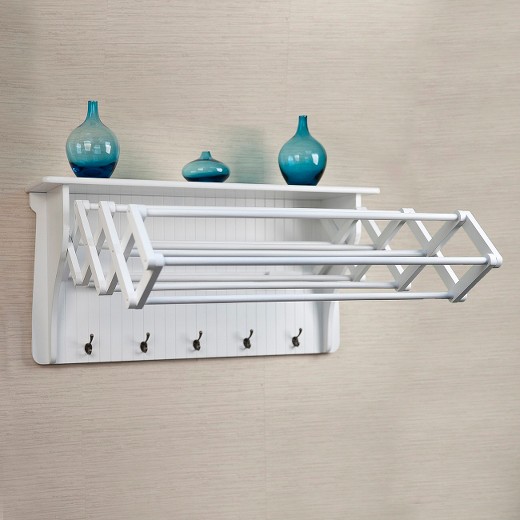 10. Dollar Store Do-Over
Yes, you can organize your whole laundry room with dollar store products. We're even giving you a quick tutorial to learn exactly what you'll need.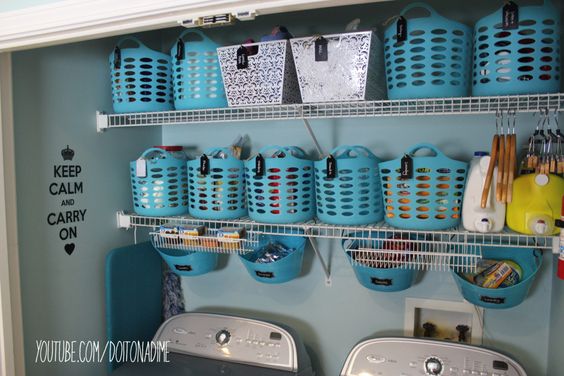 Here's where I found all of my article inspiration:
Dying for more laundry room organization ideas?