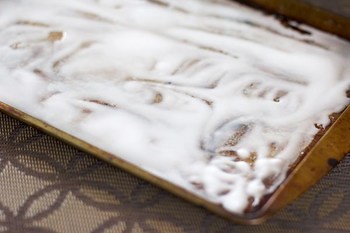 Follow my blog with Bloglovin
Admit it: we all have that drawer of baking sheets that are so scratched, blackened, and beaten up that we're sometimes embarrassed to pull them out. But they get the job done, so we keep them around. While it would be nice to replace baking sheets whenever they start looking bad, that's not always the most plausible and practical solution. Here are a few great ways to get your baking sheets shiny clean again (or at least nearly).

Parchment Paper
If you just bought a new baking sheet, then the best way to keep it new and clean is by using parchment paper

or something similar. This will save you from having to do any damage control down the road and also give your baking sheets a longer lifespan. You just need to put a piece of parchment paper on the baking sheet each time you bake and that keeps any crumbs, grease, or other cooking side effects from getting all over the sheet.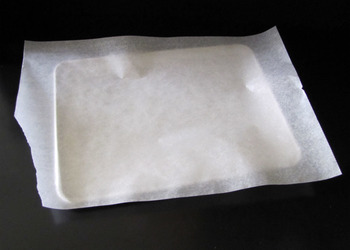 Baking Soda
If it's too late for your baking sheets and they've got the infamous black marks and stains on them, there still may be hope. Spread baking soda

on the entire baking sheet so it covers the whole surface (even the sides if they're burnt-looking). Then, with some elbow grease and a semi-abrasive brush or sponge, scrub down the pan. Rinse it with water and repeat as necessary. This won't get all the gunk, but it can clear up some of it.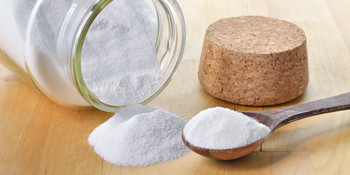 Dryer Sheet
This is supposedly a great solution that doesn't require much work, just some time. Put a dryer sheet
in the middle of your baking sheet and then fill it with hot water. Fill it as high as possible (without spilling over the edges) and then let it sit overnight. The next morning, pour out the water and scrub at the baking sheet with a semi-abrasive brush. Some of the marks should come off pretty easily, although you will need to put some work into it.
Hydrogen Peroxide and Tin Foil
Combining baking soda and hydrogen peroxide make a thick paste that you can spread on the surface of your baking sheet. Make sure to get it in all the spots that look burnt or marked up. Then, wad up some tin foil to make a little ball. With that ball, gently but firmly scrub at the baking sheet. The paste should pull up the black marks and the tin foil
should act as an abrasive scrubber to scratch away at most of the gunk. Repeat as necessary.