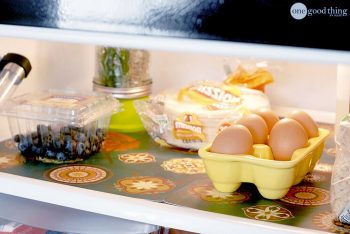 Follow my blog with Bloglovin

I don't know about your family, but mine needs a bigger fridge. It gets filled up so quickly that if we don't keep it cleaned out, we get into trouble real fast. I keep telling myself (and my husband) that if we could just keep it organized, we wouldn't be hurting so bad for a bigger one. To that end, here are some foul-proof ways to keep your own refrigerator clean and organized.
1. Basket Case
Keeping things in place in your refrigerator is half the battle. Head to your local dollar store and grab some plastic baskets, and your fridge will be able to hold more. You'll also be able to slide things out in categories when you need them. If your baskets aren't clear, make sure they're clearly labeled.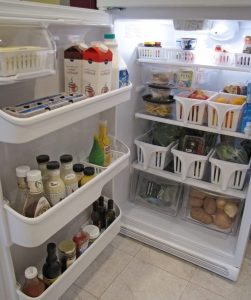 2. Keep Doors Neat
It's amazing what a simple label will do for a refrigerator door. When you label what goes on that shelf and fits well together, then you'll never forget where you grabbed the ketchup or salad dressing from.
3. Shelf Mats
The shelves in my fridge get awfully dirty, and half the time I don't even know what happened. With your own DIY refrigerator shelf mats, you can keep them clean 100% of the time. When the mat gets dirty, just pull it out and wipe it off.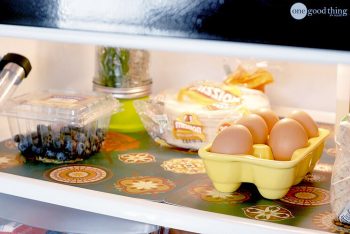 4. Know Your Cold Spots
Raw meat and seafood should always be kept on the bottom shelf (in a leak-proof container), so you can be sure they won't drip on other foods. There are also ideal spots for other things, such as eggs, dairy, veggies, and more.
5. Let the Kids Help — It's Fun!
No really! Here's a fun way to enlist your kids in helping you clean out the fridge.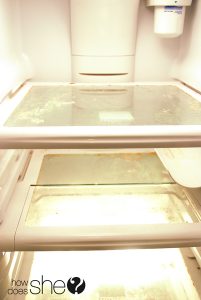 6. Stay on Top of Leftovers
Ideally, you use leftovers before they go bad. But inevitably, you'll have to throw things out occasionally. The good news is, it's easy to get rid of those yucky odors.