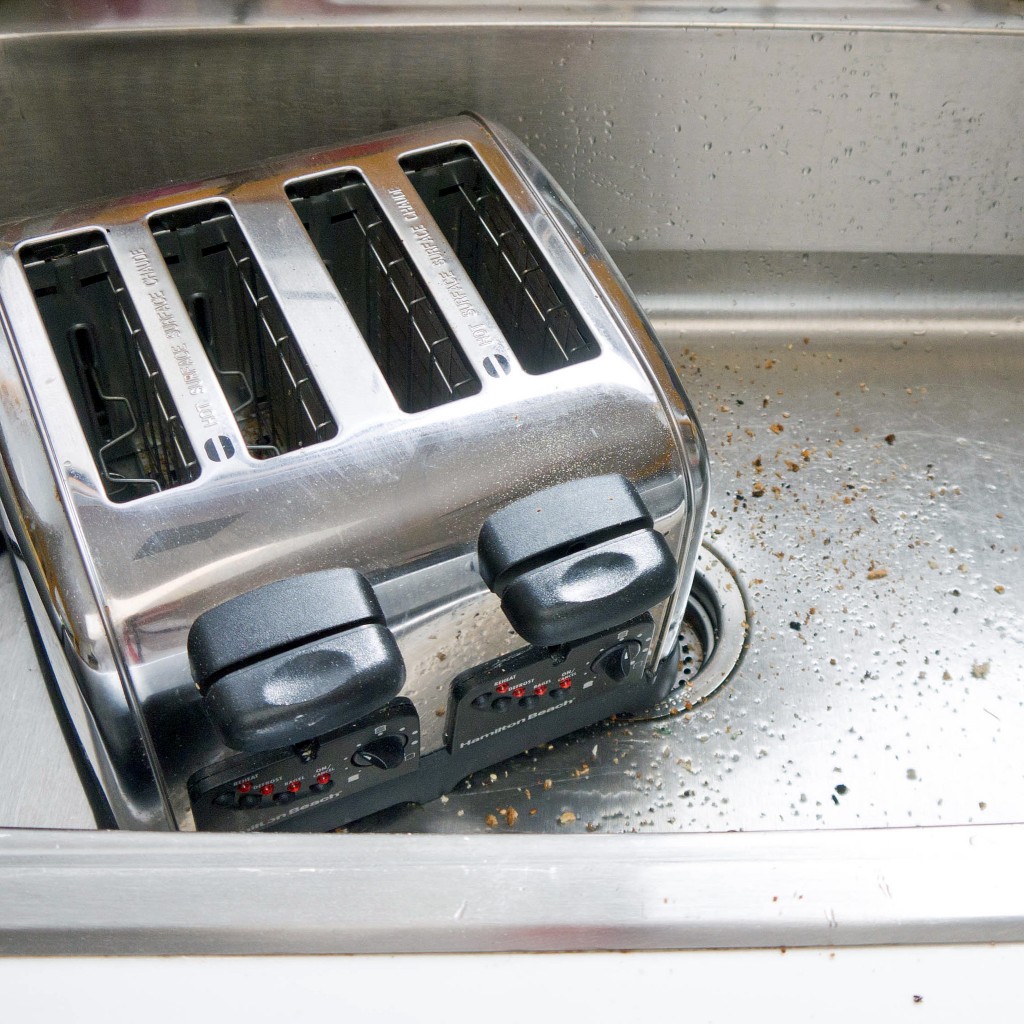 Follow my blog with Bloglovin
For some of us, a deep cleaning checklist is actually enjoyable. It's not so much that we enjoy cleaning (although that may be the case), but we just love things being really clean! Here are some deep cleaning tips to help the clean freak in you clean faster and better so your home is always that level of clean you love.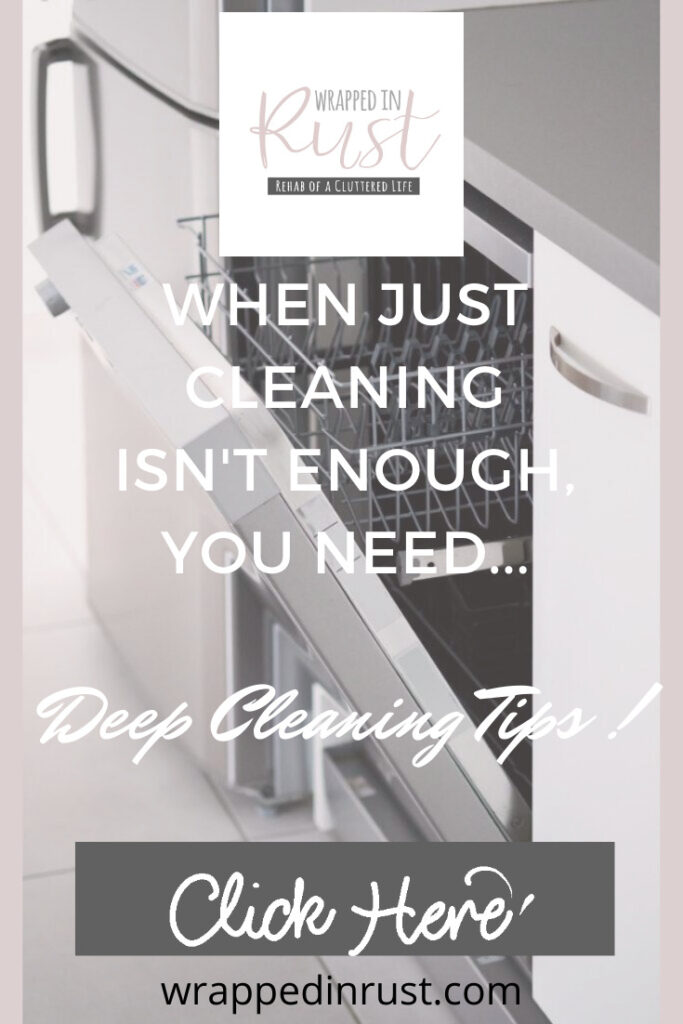 Deep Cleaning Checklist
If you have a stain on your carpet, get it out with steam. Simply warm up your iron, put a wet cloth underneath the iron and over the, and steam out the stain! The iron and wet cloth produce steam that pulls the stain out.
To clean stainless steel, Pledge furniture polish works great. Just spray some on a cloth and wipe down your stainless steel appliance. It helps repel fingerprints! Here's the best way to clean a stainless steel sink. 
For chrome that's dull and spotty, use a lemon. Cut the lemon in half, then rub the cut side on the chrome. Wipe and rinse as needed, until the chrome shines.
I suggest a UV portable disinfecting light. This dream machine cleans and sanitizes surfaces for you.  This is one of my favorite items on this deep cleaning checklist.
Got an iron with a gunky plate? Turn the iron on warm, and then iron some salt. The salt helps break down gunk on your iron.
Always work top to bottom when you clean. For example, always dust before you vacuum! As you dust, some particles fall to the floor, but if you vacuum after you'll pick it up later. 
To clean your dishwasher, pour a packet of lemon Kool-Aid (no other flavor will work) in the soap dispenser and run a regular wash cycle. The citric acid in the lemon breaks down mineral build up in your machine.
Try this homemade gunk remover. Combine one part baking soda with one part coconut oil. Mix together well, then use it to scrub down sticky items like greasy cabinets.
Another way to clean your cabinets is to use a dish scrubber with soap in it, plus some elbow grease.
To remove crumbs from your toaster, remove the bottom and gently shake it over the sink.
In order to thoroughly clean your windows, remove them completely from the track. Horizontal sliders do this. Remove the frame, clean all around the track, and then replace the pane.
To prevent dust from building up on furnace vent covers, rub a light layer of car wax on them. This is a harmless way to help them repel dust.
This seems a little crazy, but if you rub wax paper on your faucet, it helps prevent water spots and finger prints.
For toilets with nasty rings in them, drop a piece of a Magic Eraser inside the bowl. Let it sit overnight. The next morning, the chemicals in the Magic Eraser will have magically broken down the toilet ring!
Mix baking soda and essential oils together in a kitchen strainer, then lightly sprinkle the mixture over your mattress when you change the sheets. This helps freshen it up. Let the baking soda sit for about an hour and then vacuum it off, then replace the sheets.
Put ice, lemon rinds, and salt down the garbage disposal and turn it on. The ice and salt help remove gunk and the lemon freshens the disposal so it doesn't stink.
For oil-based carpet stains, try a mixture of vinegar and baking soda. This doesn't work for all stains, but it is definitely worth a try.
If you haven't cleaned your ceiling fan in a while, try this idea. Slide a pillowcase over each fan blade, one at a time. Grip the pillowcase around the blade and slowly pull it off. The pillowcase removes and traps all the dust so it doesn't fall on your furniture and floors.
For those of you with pets, an easy way to get pet hair out of the carpet is with a squeegee! Pull the squeegee across your carpet, and pet hairs lifts right out.
Clean the slits in vent covers with a foam paintbrush. The tip fits right into the slits and picks up the dust that gets trapped in there. This also works for car vents!
For stains on microfiber couches, rubbing alcohol works really well to remove them. Apply the rubbing alcohol on a white cloth, and blot the stain. Repeat until the stain disappears.
Just  Few More Deep Cleaning Checklist Items! 
Use a bit of WD-40 to get rid of scuffmarks on your floor. Just put the WD-40 on a rag or bristle brush and scrub away the scuffs. 
Clean blinds easily with a sock. Just slide it on your hand and dust the blinds! Add a cleaning solution to the sock if needed. 
If your blinds are still a bit grimy, use a bit of white vinegar on a sock or microfiber cloth to remove grimy spots. (Vinegar is safe only for plastic or faux wood blinds).
For those baseboards that you always forget to clean, use dryer sheets! Rub a dryer sheet over the baseboard to pull up any dirt and dust.  
 A drop of blue Dawn dishwashing liquid mixed into a spray bottle of hydrogen peroxide helps get out stubborn carpet stains. Spray it on, let it sit for a few minutes, and then blot it up with a wet cloth. 
For a dirty stainless steel toaster, rub a bit of cream of tartar into the finish. Let it sit for a bit and then wipe it off. You'll have a shiny toaster again! Check out these additional pantry items that also clean. 
Ketchup is a great cure for dirty copper. Rub the ketchup onto the copper and allow it to sit for a few minutes while you do something else. Then rinse the ketchup off and dry thoroughly. Your copper should look new again.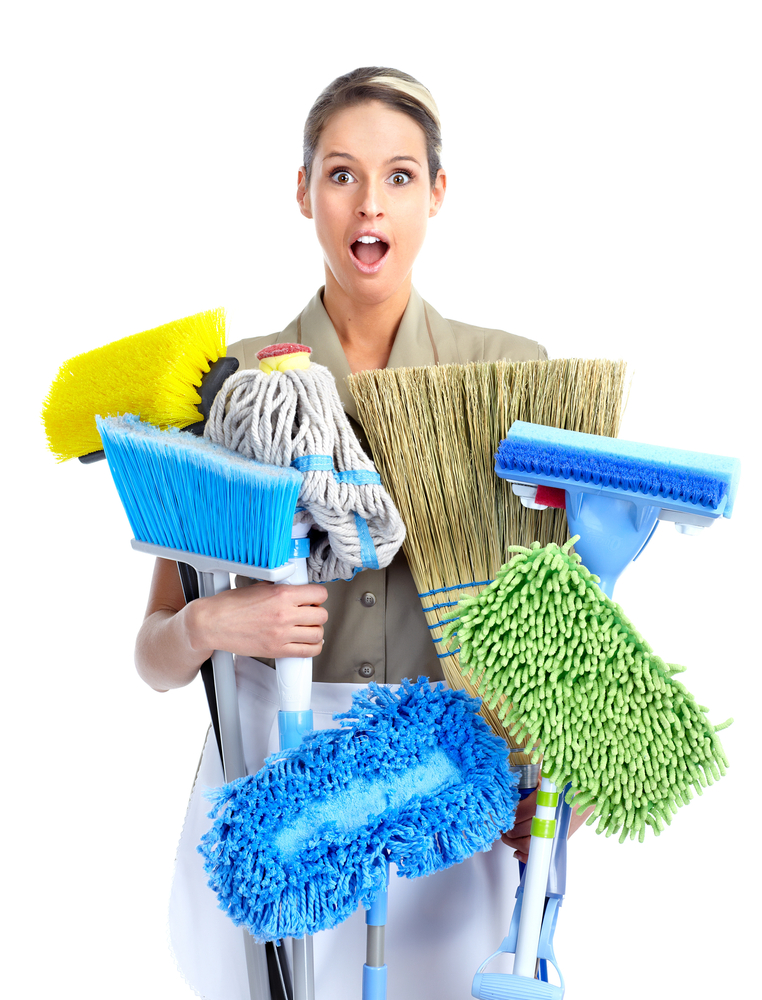 Which of these deep cleaning tips are you going to try first? Let me know what you think of this deep cleaning checklist!
Editor's note: this post was originally published in May 2016. It has been updated for clarity.