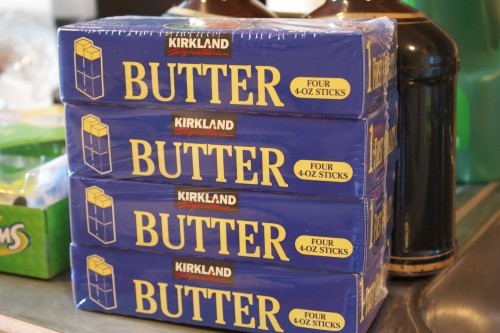 Follow my blog with Bloglovin
Costco is one of the best places to shop, but how do we know if we are actually saving money buying these items in bulk? Well I did a little research and here is what you should buy at Costco and what you should not buy at Costco.
What You Should Buy At Costco
Milk
Everyone will agree that you can't find milk cheaper anywhere else. So remember when you're at Costco to grab a gallon.
Gas
If you shop at another grocery store with gas deals you may find similar prices, but Costco gas will always be cheaper than the regular gas station, so make it a point to fill up when you are near Costco….even just a few cents a gallon really adds up over time.
Butter
I know most people don't want that much butter at one time, but you can freeze it! Then you save a lot and you always have butter on hand.
Bacon
Bacon is usually a rare delicacy at our house because it can be so dang expensive! You can buy it for $2.74 per pound at Costco, and remember again you can freeze it, so it doesn't go bad.
Diapers and Wipes
If you have a child in diapers then you know that you can never have to many of these! Costco has great deals and Kirkland brand is made by Huggies.
Produce
They have awesome prices on produce BUT if you buy more than you need, and end up throwing it away you aren't saving any money. So make sure to only buy if you know you will use it all.

Flowers
Costco has a great deals on flowers and they are usually beautiful! (You may want to pass this tip onto your husband!)
Toilet Paper
It's great quality at a good price.
Costco Restaurant
If you plan to grab some food while you are out, Costco is the best place to do it if you want to get the most for your money! They have great food, and the prices are even better…you can't beat $1.50 hot dog and drink!
What You Should NOT Buy
Cereal
You will always be able to find better deals on cereal somewhere else.
Boneless Skinless Chicken Breast
Watch the sales around you, but even without sales or coupons you can usually find it cheaper per pound at another grocery store.
Shampoo and Conditioner
Remember just because it's in bulk doesn't mean it's cheaper. Shampoo and conditioner usually costs more per ounce.
Books
They are so inviting, but go online and you will find them for up to 1/2 the price.
Soda
It's not terribly overpriced at Costco, but it is always on sale at the grocery store and you can save a lot.
I hope that this list of what you should buy at Costco, and what you shouldn't buy at Costco helps! And please let me know of more do's and don'ts for buying at Costco!