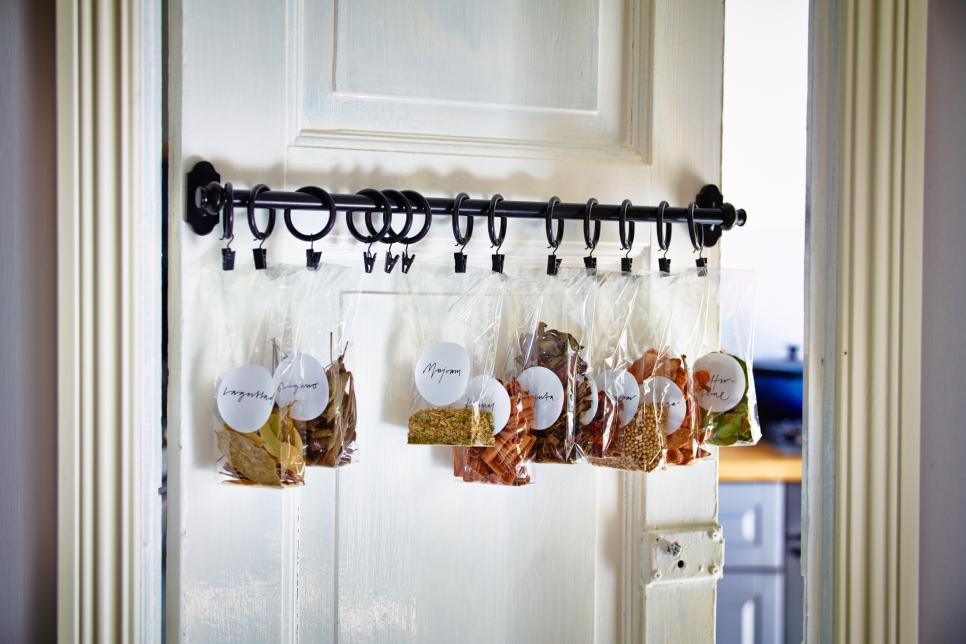 Follow my blog with Bloglovin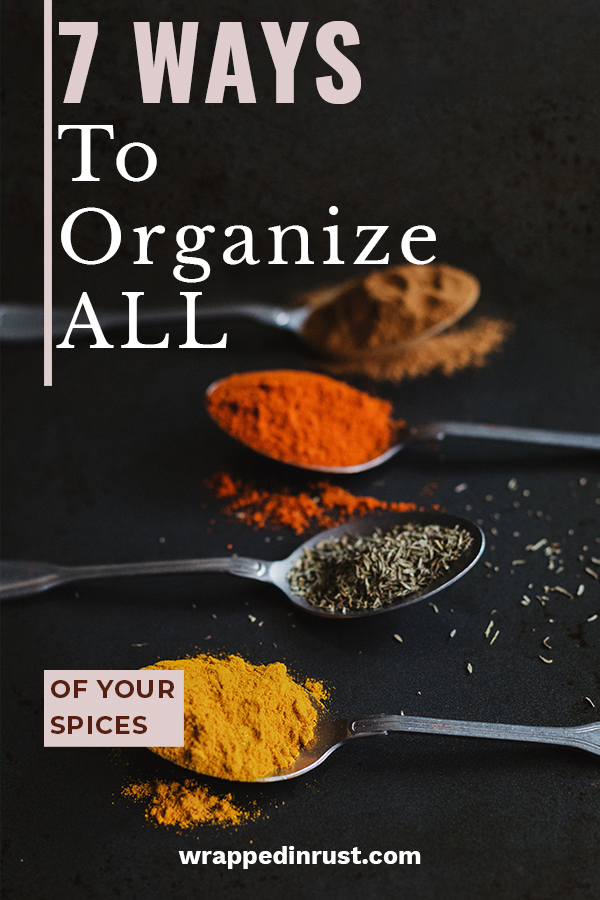 Spice organization can be hard! If your kitchen is anything like mine, you have a ton of spices. And those spices come in small bottles that often drive you crazy. They fall out when you're looking for something. They are hard to see. And gosh darn it, they tend to take up a lot of space. If you really want to organize the kitchen, you should really think about making spice organization part of the plan. Here are my favorite spice organization DIY projects.
1. Wire Baskets on the Wall
Got wall space in your kitchen or pantry, or some empty space on the back of a cupboard door? Use wire racks to hold your spices where they are easy to see for an easy spice organization DIY.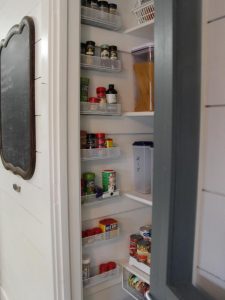 2. Bags & Clips
Look how cute this is. Get a towel bar and hang it inside the cupboard or pantry door. Transfer your spices into clearly labeled bags and use curtain clips to hang them. No cupboard space is needed for this  spice organization DIY.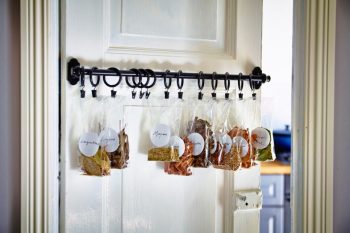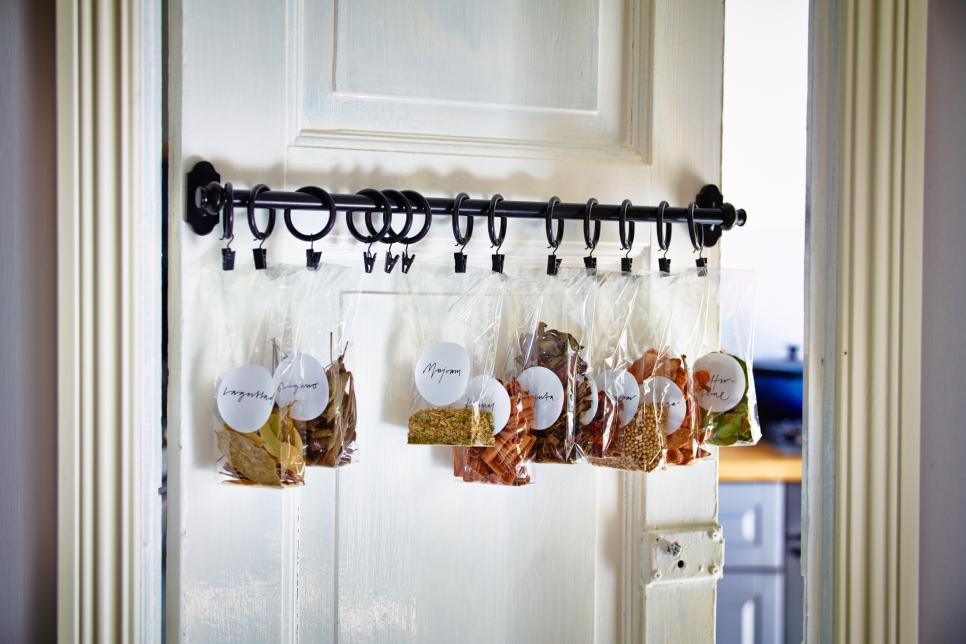 3. Repurpose Serving Trays
These vintage serving trays hung on the wall (after splitting them with a shelf) turn your spices into a great kitchen design feature.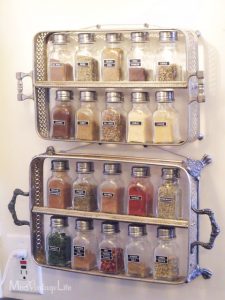 4. Build it In
Why not build in a spice rack between the studs in your wall? This becomes a design feature, but it's super practical, and it saves space.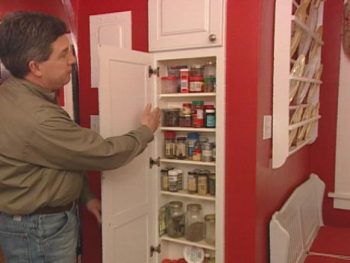 5. Stick 'Em Up
Use magnetic spice jars to stick those spices in your fridge, or create a spice wall with a piece of sheet metal. Your spices will be handy for all that fresh cooking.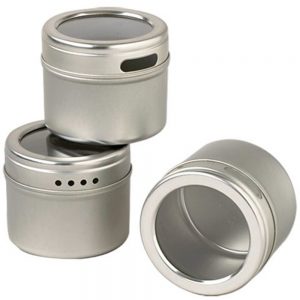 6. Simple Shelf
A long shelf right under your cupboards can make a cute and practical spice storage solution. And you'll free up cupboard and counter space.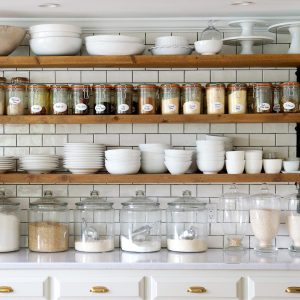 7. Spice Drawer
You can build your own spice storage solution for a drawer. You can quickly find what you need and keep them out of your cupboard. No more falling bottles!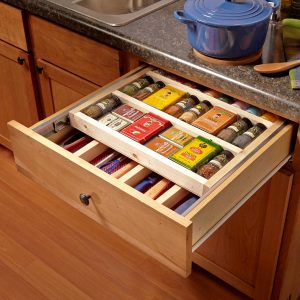 Article Links
Wire Baskets: https://www.hgtv.com/design/decorating/clean-and-organize/creative-spice-storage-ideas-pictures
Bags & Clips: https://www.hgtv.com/design/decorating/clean-and-organize/creative-spice-storage-ideas-pictures
Repurpose Serving Tray: http://modvintagelife.blogspot.com/2012/01/silver-spice-rack.html
Build it In: https://www.hgtv.com/design/rooms/kitchens/built-in-spice-rack
Stick 'em Up: https://www.amazon.com/12-Tins-Talented-Set-Refrigerator/dp/B01FY69CPS
Simple Shelf: https://www.familyhandyman.com/storage-organization/12-ingenious-spice-storage-ideas/view-all/
Spice Drawer: https://www.familyhandyman.com/storage-organization/12-ingenious-spice-storage-ideas/view-all/