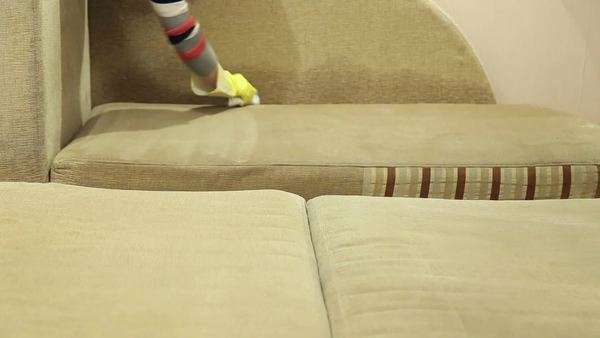 Follow my blog with Bloglovin

The problem with having nice things is that they end up looking…well…lived with. Since you can't ask family and friends not to eat, breathe, or sit on the furniture (don't even talk about the dog), you've got to have a way to get rid of the dirt, hair, and stains on your upholstery. Fortunately for you, we've got just the thing. And it doesn't involve hiring a professional. Let's get it done!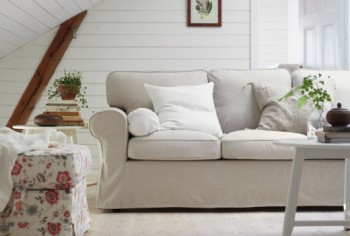 First thing's first. Vacuum.
Ugh, I know. But before you do anything else, you need to vacuum the area you want to clean (or heck, the whole piece of furniture). I know it can be a pain to get out your vacuum and any necessary attachments. But the last thing you want to do is make pet hair or crumbs stick to your upholstery. — and that could definitely happen if you don't get that stuff off first. Besides, vacuuming will take care of some of that surface dirt, making cleaning easier. If you don't have attachments or REALLY can't bring yourself to get them out, at least try a sticky roller.

Make Your Own Upholstery Cleaner
Not only are you not paying a professional, you're not even buying the cleaner! Sure, you can if you want to, but making your own is cheap, easy, and just as effective, if not better, than the store-bought stuff. Just mix about 2 cups of warm water with 3 tablespoons of vinegar and 3 tablespoons of liquid dish soap. Mix it up in a big bowl and whisk away until it's well mixed and you have a nice pile of bubbles on top. Really, really make it foamy.
Harvest the Bubbles
OK, "harvest" is a strong word. What you want to do is simply scoop them off the top of your cleaning solution and spread them over the area you're going to clean. Just get the bubbles…not the really wet stuff. Spread it evenly and make sure the spot is covered completely. When you use just the bubbles, you get the maximum stain-removing power without making your couch or chair too wet. You don't want water spots where the stain used to be! We won't tell anyone if you play with the bubbles a little. 😉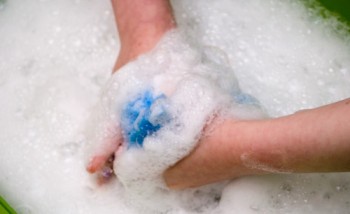 Scrub Away

After you've got your stain covered evenly with bubbles, grab a soft brush or clean rag and rub away. Make sure any brush you use is soft, so you don't damage the upholstery fibers. Be as gentle as you need to be, depending on the fabric.
Wipe it Up
Next, grab a clean, absorbent cloth and get it just a LITTLE damp. You don't need or want much water. All you're going to do is wipe up the bubbles, and hopefully the stain comes up as well. Use a big, sweeping motion.

Dry
Grab a fan and point it right at the damp spot. You want to dry it out fast, so you don't risk a water mark. And that's it! If some stain remains (and you may not be able to tell until it's dry), simply repeat the process. You've likely saved your couch and your money!