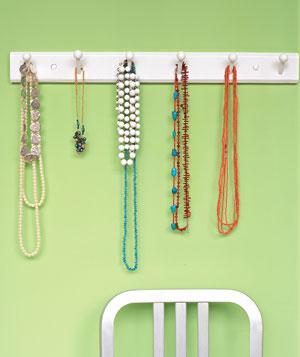 Follow my blog with Bloglovin
Keeping your house clean can be incredibly difficult if you have problems with organization. In order to keep things nice and orderly, here are some awesome tips and tricks to make your house look like a professional organizer help you out!

Jewelry Boxes
Jewelry boxes are actually pretty good quality, so don't just throw them away or keep them uselessly stored away in a closet. Use them to organizer drawers and other small spaces so you never have to go fumbling around in them again!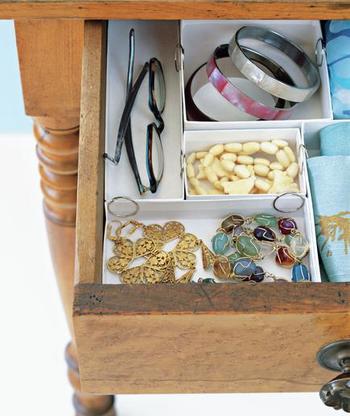 Hanging
Using a hanging shoe organizer
 to keep things extra organized! You can hang this anywhere—on the back of a closet door, in a cupboard, or even in your closet!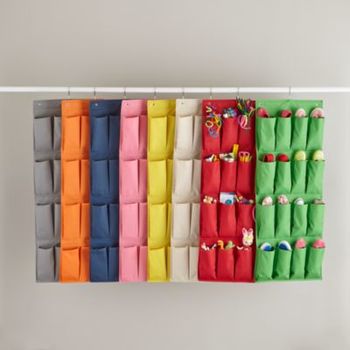 Declutter Junk Drawer
We all have a junk drawer, and we all tell ourselves that "one day" we'll clean it out. Well make that day today and declutter it. Throw out whatever you don't need and then just keep the rest of it neat and tidy.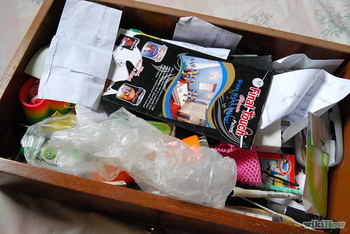 Glass Jars
This storage idea is great for the garage, bathrooms, or anywhere else, really. Attach the lids to the bottom of a table or shelve and then just screw the jars on! You'll be using wasted space to keep things organized.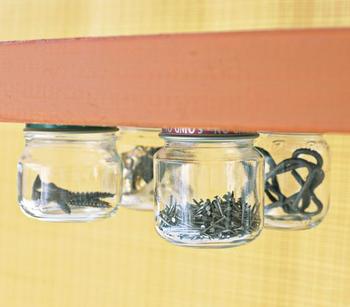 Magnet Strip
For all those bobby pins, nail clippers, and other metal bathroom supplies, install a magnet strip. You can keep all those small things organized while also making sure they don't get lost.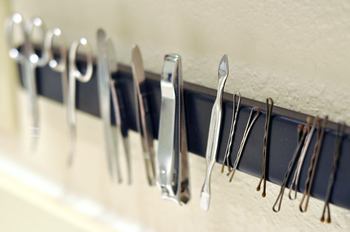 Rods
Use shower or curtain rods
 to add extra storage space in nearly any part of your home. Whether it's in the tub to store toys or under the sink to store cleaning supplies, rods are a must!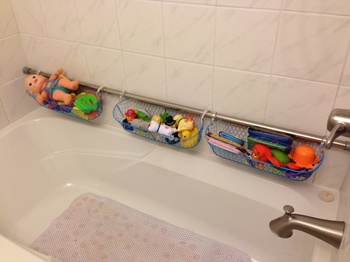 Manuals
You have two options when it comes to instruction manuals: either store them all in one place or throw them out! If you decide to keep them, put them in a 3-ring binder or other storage device so you always know where they're at. You can also throw them out since most manuals are online.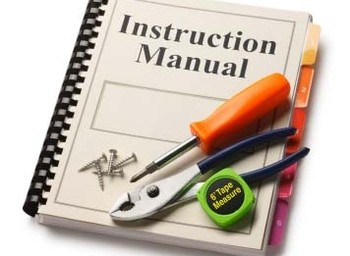 Grocery Bags
Don't just throw your grocery bags under the sink or in a dark drawer. Quickly organize them with an empty tissue box. Just stuff the bags in the tissue box and pull them up through the opening whenever you need one.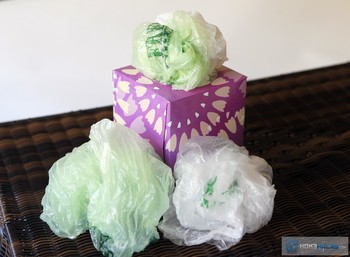 Family Pick Up
Get your family into the habit of quickly picking up and tidying the house ten minutes before bedtime. You can even turn it into a fun game with your kids and make it a friendly competition!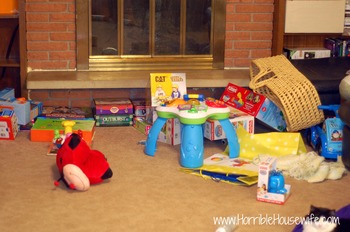 Yarn
Yarn can get tangled, knotted, and just overall messy if you don't store it well. There are tons of different ways to store yarn, whether it be a dish organizer or glass jars
, so choose a style you like and go for it!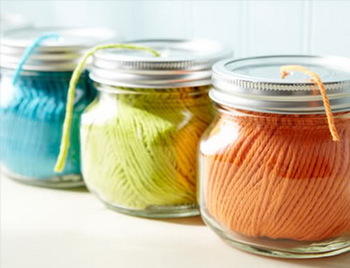 Bedding
Be smart and store your bedding all together in one tight pack. Take the pillowcase and store all the sheets, linen, and other bedding inside of it. Then, whenever you need to change a bed, you have all you need in one pack.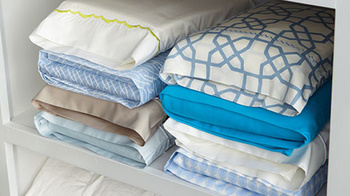 Ribbon
Don't let your ribbon get ripped, knotted, or crumpled anymore. Use a paper towel holder
 and simply slide the dowels onto the rod! It's cheap, super easy, and can really tidy up a room.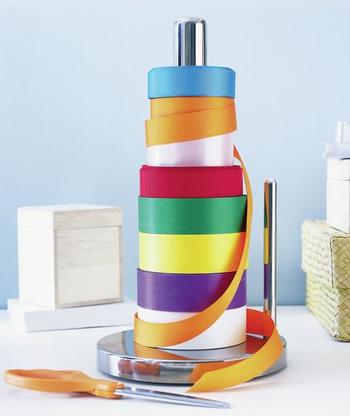 Dish Drying Rack
Use a dish drying rack
 as a coloring station and storage system. Put the coloring books in the dish part and the crayons and other art supplies where the silverware normally goes.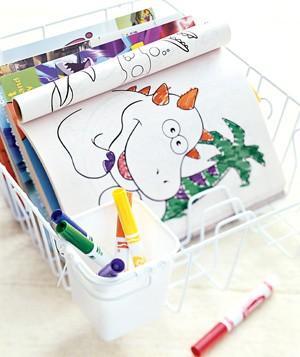 Ladder Rack
Add some organization and style to your house with this great storage idea! Use a small ladder
 leaned up against the wall to store magazines or towels. Paint the ladder a fun color that goes well with whatever room it's in.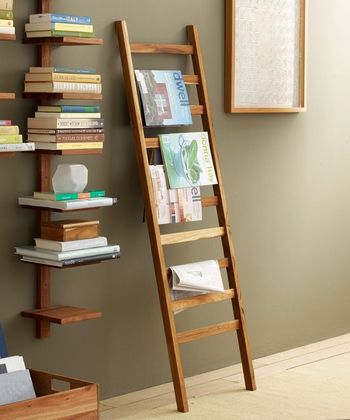 DVDs
If you're anything like me, you probably have tons of DVDs. All those bulky DVD boxes can really take up a lot of space and take a while to sort through on movie night. Save yourself time and space by putting all the DVDs in one case
.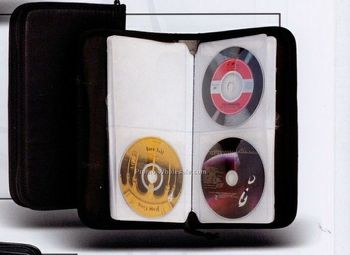 Cords
No more need to worry about which cord goes where or whether or not you have the cord you're looking for. Use toilet paper rolls to both label the cords and keep them from getting tangled with others.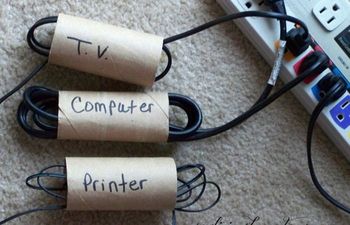 Tension rods
Tension rods aren't just useful for hanging up drapes and curtains. Use tension rods in drawers and cupboard to store lids to pots, pans, and Tupperware dishes.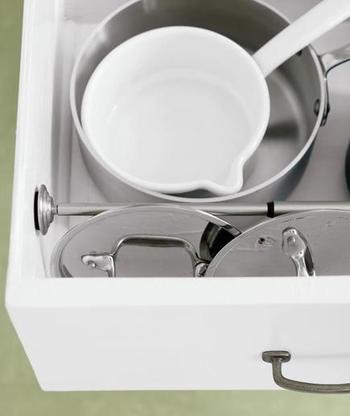 Racks and Holders
Organize your bathroom by getting a storage rack or holder for your curling iron, hair dryer, and other bathroom items. You can make one out of PVC pipe or buy a wooden or metal one online.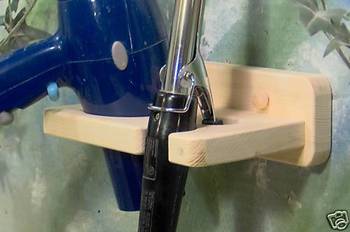 Jewelry
Tangled and broken jewelry can be incredibly frustrating. Save yourself the time of having to untangle everything by getting a great organization system for it. A simple one is using a coat hanger
for all of your necklaces and bracelets!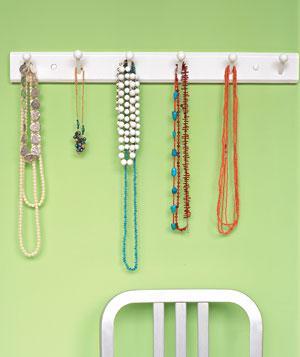 Medicine Cabinet
Don't let your medicine cabinet get messy and cluttered. If necessary, get small plastic bins
 to store similar items and then group the other things together (like toothpaste and floss).