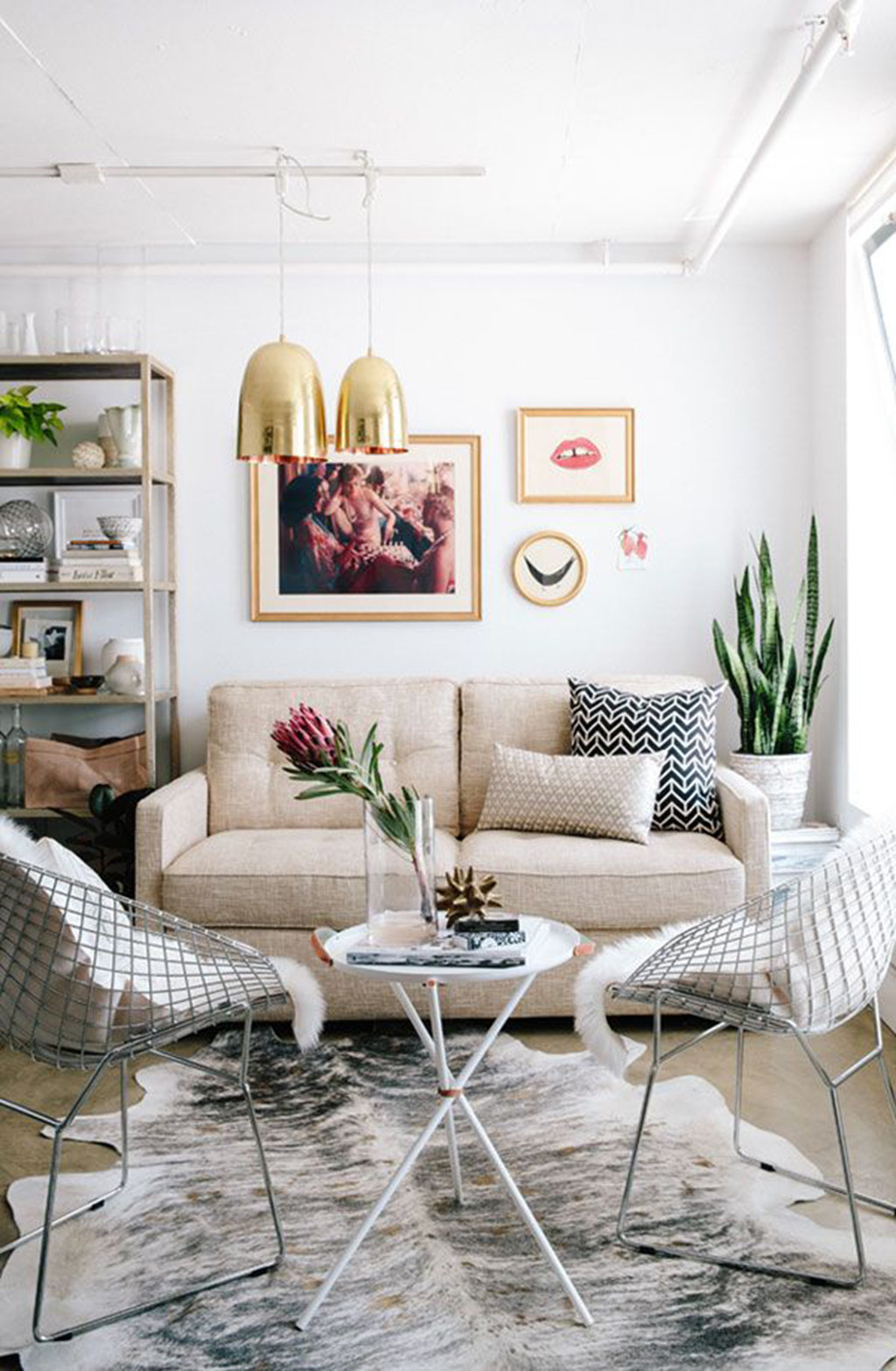 Follow my blog with Bloglovin

When you have a small space to work with, designing your living room can be a challenge. If you're ready for an upgrade but want to use your limited space wisely, try these 18 ideas. You'll create a fresh look with a more open feeling
1. Lights and Darks: When you have a small room, dramatic contrasts between light and dark colors can make a big impact.Try using black, white, and gray, and then choose a brighter color, such as yellow, as an accent.

2. Go Gray: White isn't the only light shade that creates the illusion of having more space. Gray is all the rage these days for it's ability to create a spacious look that's also cozy, not antiseptic. Natural wooden accessories add more warmth and charm.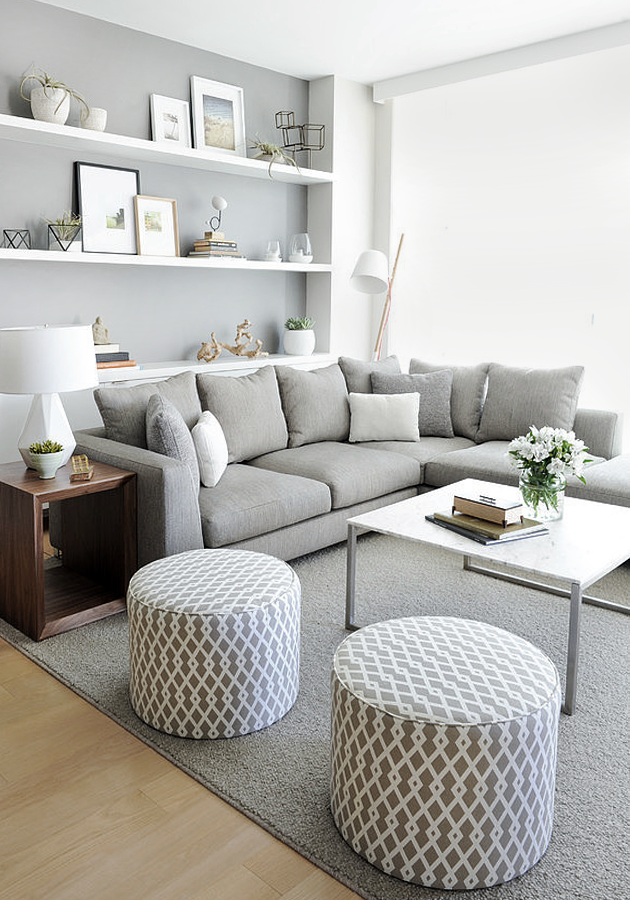 3. Embrace Neutrals: Neutral tones are both versatile and homey. See how the different textures and varied shades add interest without being too busy? It's the perfect for any small space!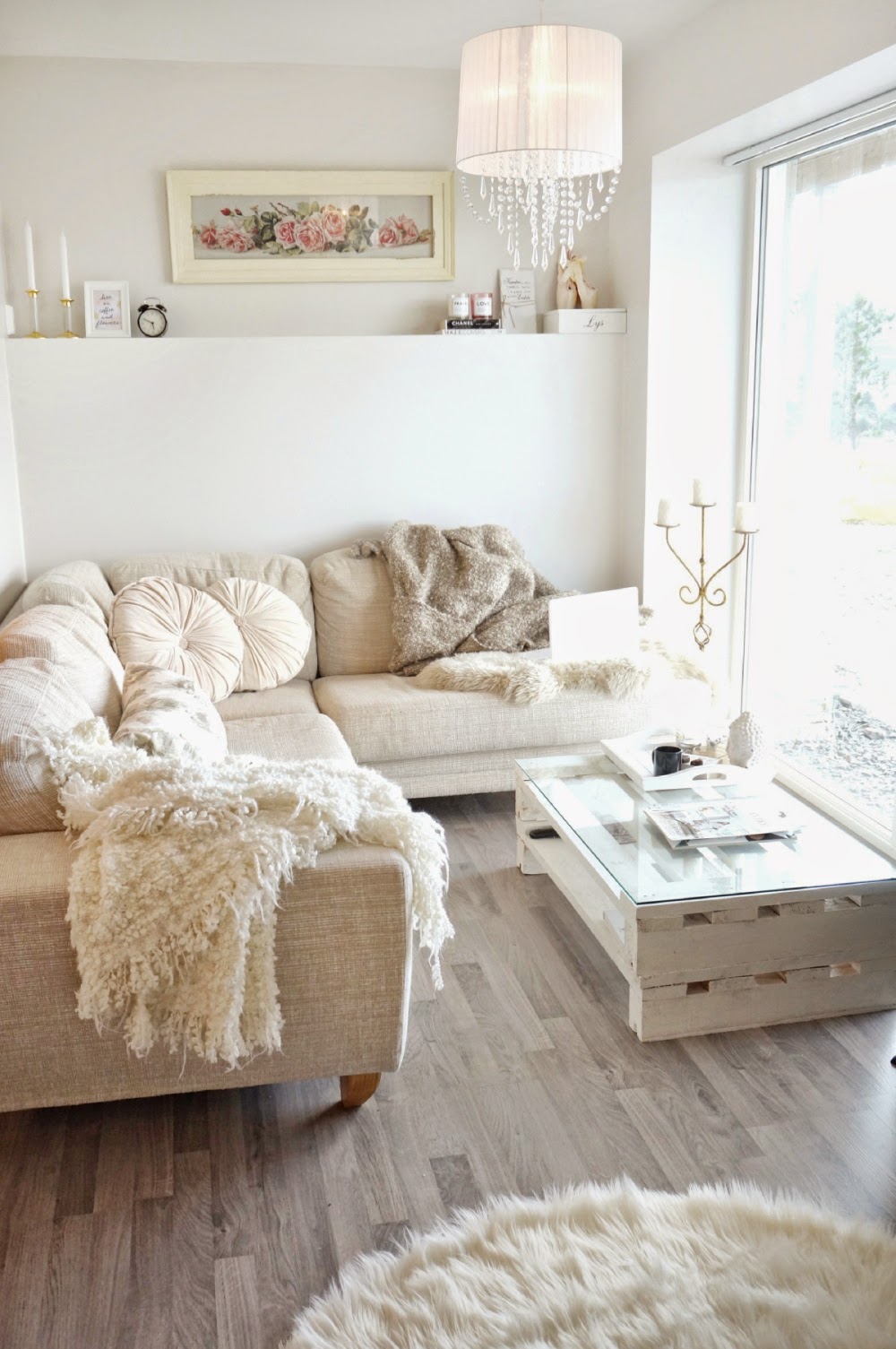 4. Brighten it Up: Lighting is especially important in a small room. With abundant showcase lighting, you can feel free to use a darker color on the walls to help absorb some of the bright light. Textures also help to provide different manipulations of the light.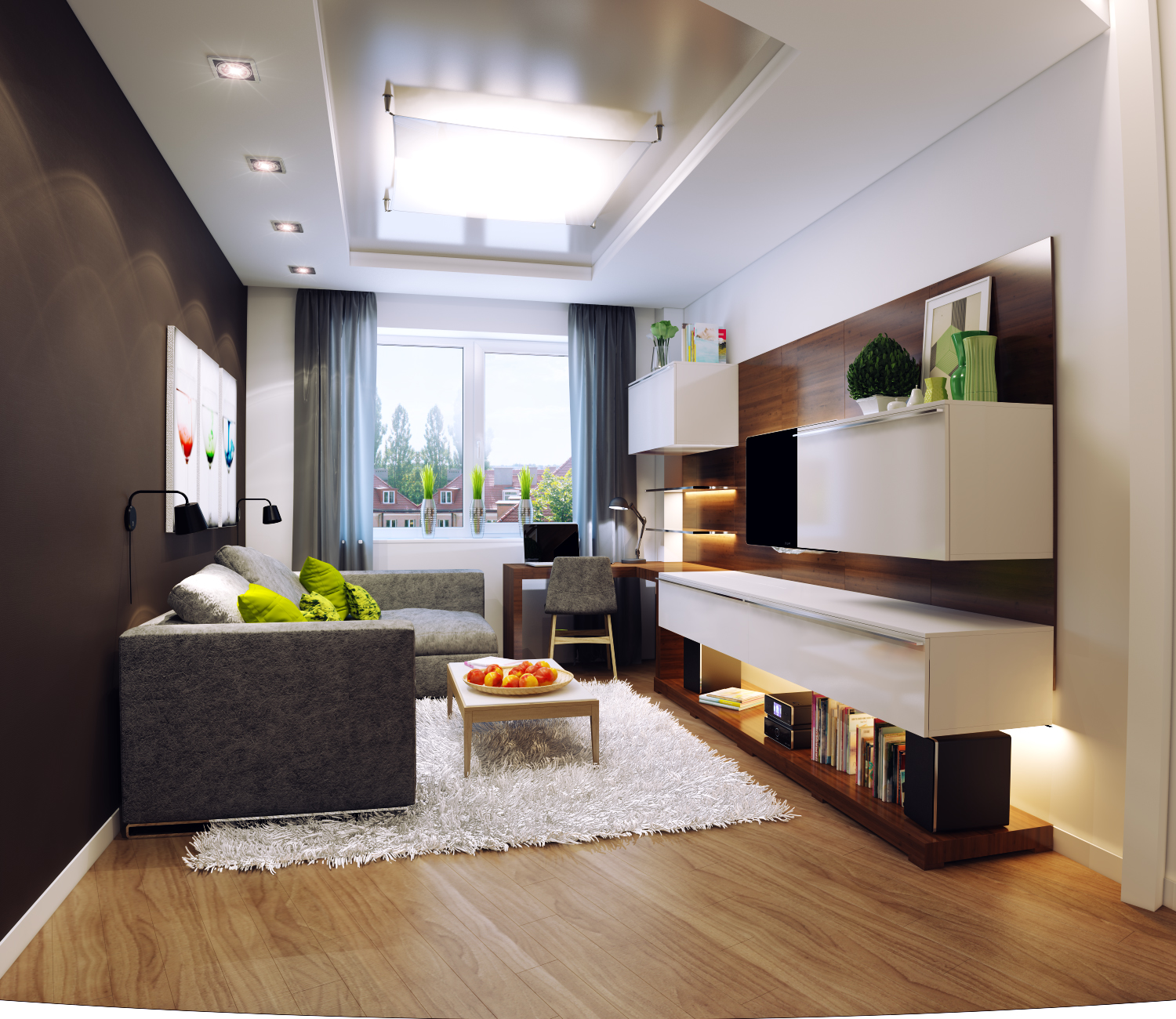 5. Clean Lines: Modern furnishings have clean lines that can make any room feel less cluttered, and even larger. Contrast paint colors with accessories for a designer touch.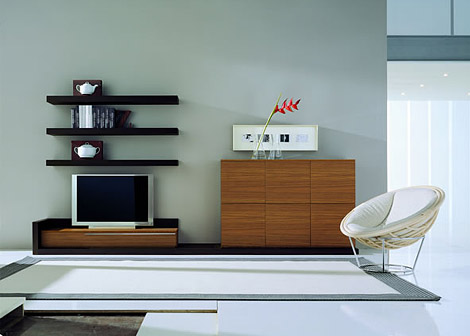 6. Use Symmetry: Keeping your small living room symmetrical can help add both style and elegance, without feeling bland or closed in. When used properly, symmetry is seriously ideal for any smaller space.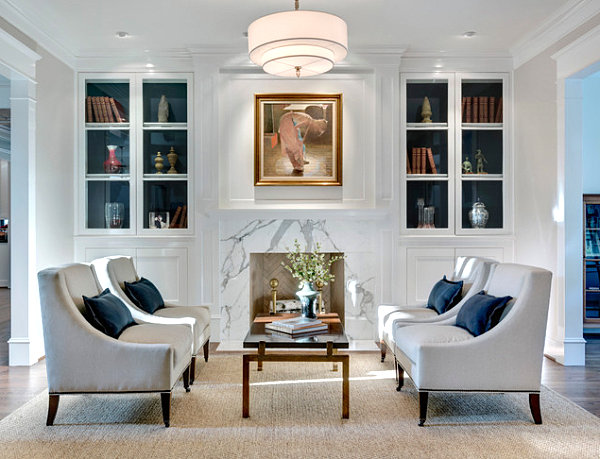 7. Keep it Minimal: It's no secret that crowding a room with furniture will make it seem smaller. In the same regard, using minimal furniture and even minimal accessories can really help to open up a room. But that doesn't mean it has to lack style!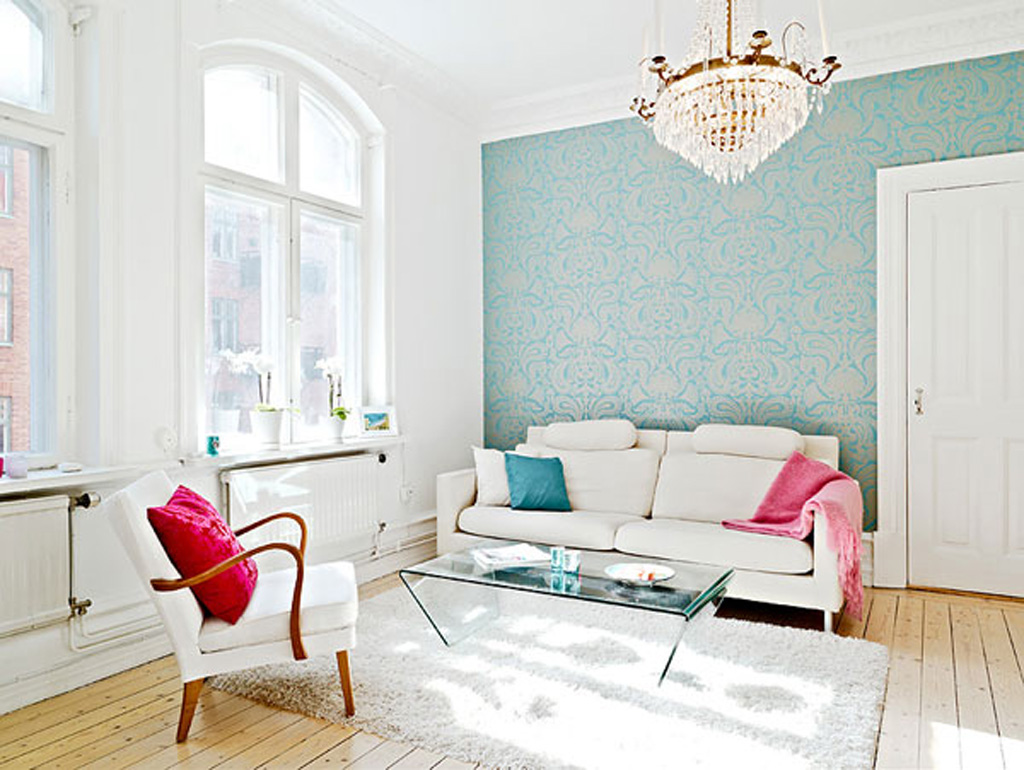 8. Pastel Pleasures: Try pairing a neutral wall color with light pastel furnishings. You'll get a designer look, and the subtle brightness of the space will make it inviting and relaxing. Notice how the transparent coffee table almost blends in, rather than being an obstacle for the eye. Smart.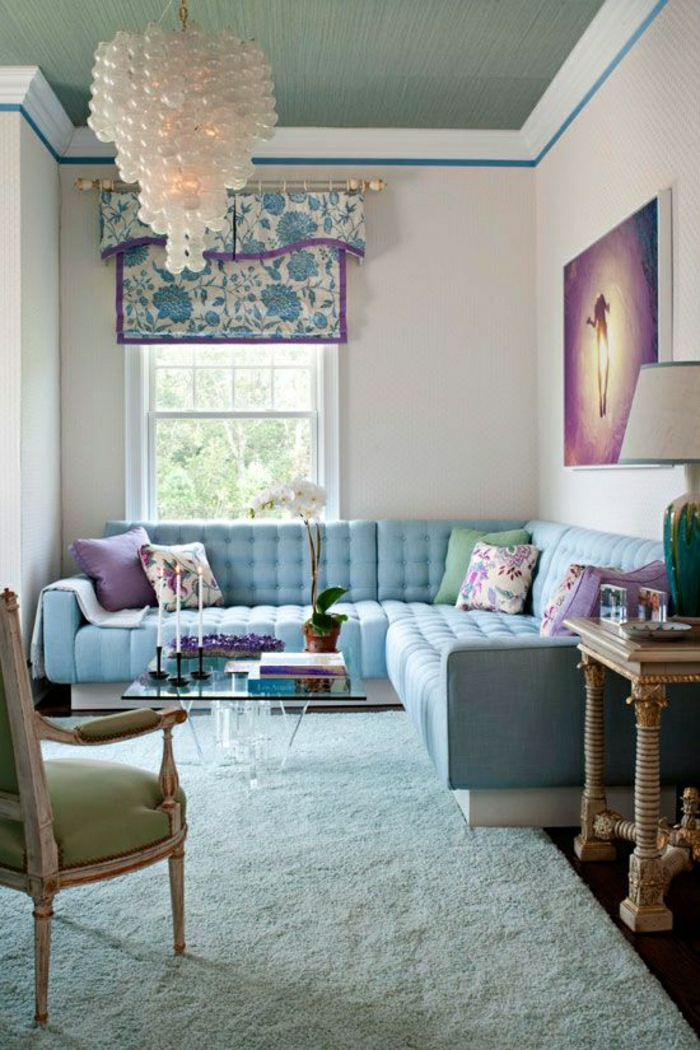 9. Go Monochrome: Don't be afraid to embrace the monochromatic. Like this design, pairing a lighter overall shade with darker-hued accessories can add drama to a smaller or narrower room, still allowing the light to make it feel spacious.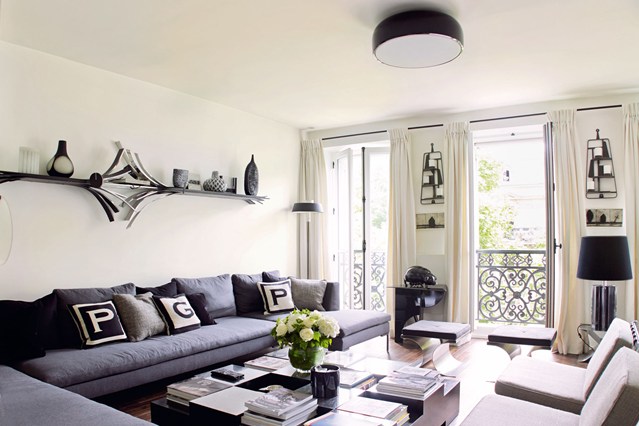 10. Go Big With Color: Conventional wisdom might caution you against bold colors in a smaller room. But it works here when paired with plenty of light and contrasting neutrals. This bold color isn't forced to compete with the pleasing tones used elsewhere.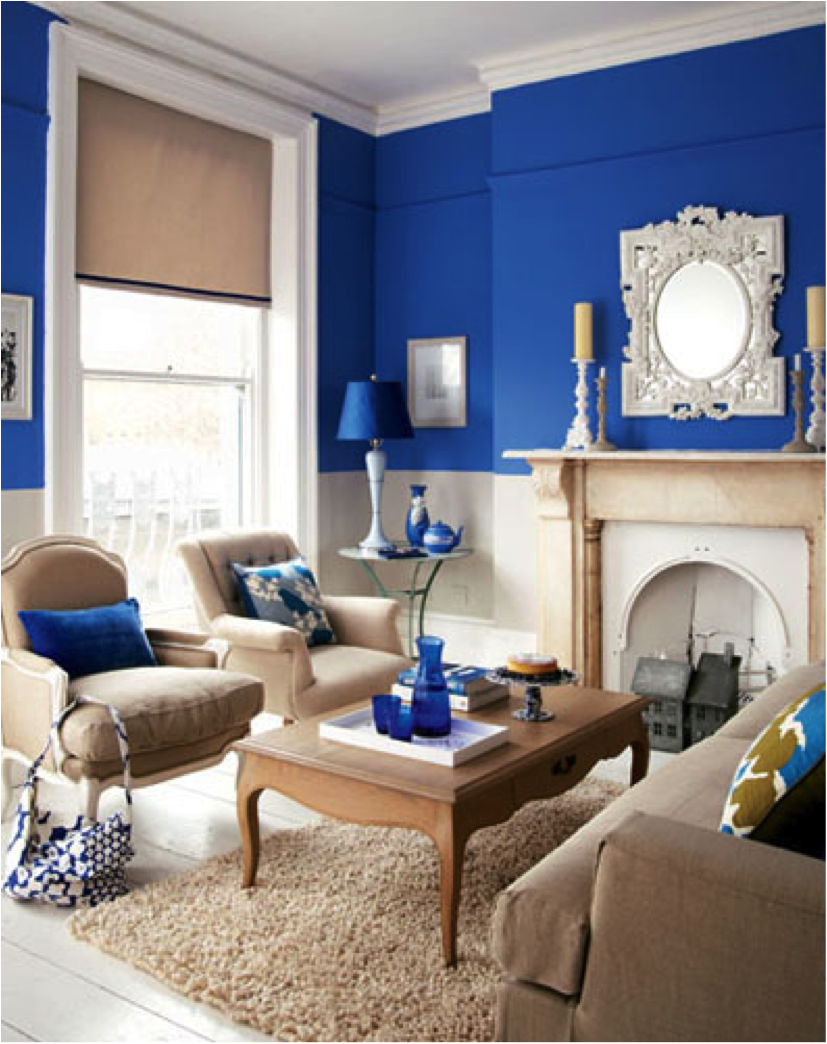 11. Feeling Eclectic: Done well, an eclectic design pleases the eye at every glance. The mix of styles doesn't seem hap-hazard when the colors compliment each other, creating a balanced feel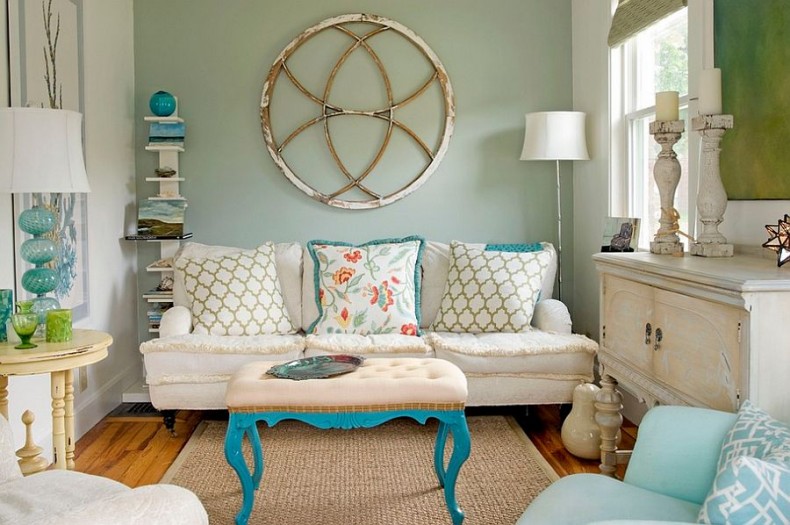 12. Tempting Textures: Not sure about color combinations? Texture can be just as effective in creating a designer look. The brick wall offers a rustic touch, while the metal and glass lighting and untreated window add drama. Very successful in a small space!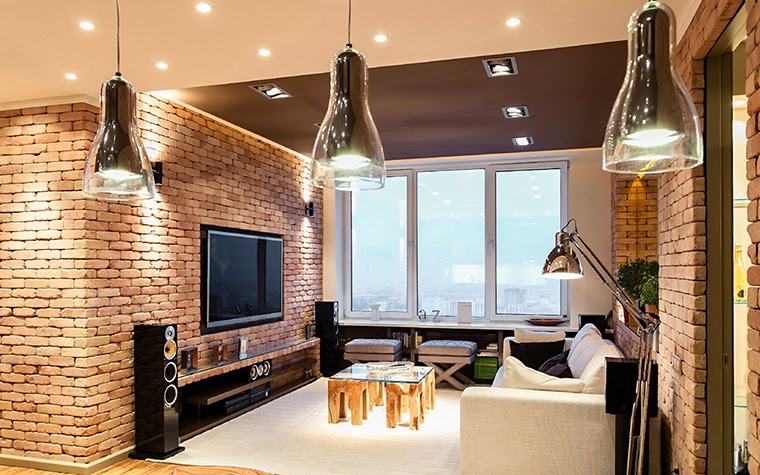 13. Rustic Charm: A rustic room always fees lived in, making it comfortable and cozy. Don't be afraid to bring in some weathered textures and farmhouse style. Even a distressed door tucked in a corner becomes a show piece.
14. Earthtone Bliss: Earthtones create a comfortable and cozy feel without being too overwhelming for a small space. With good lighting and texture, you can incorporate earthy colors without drabness.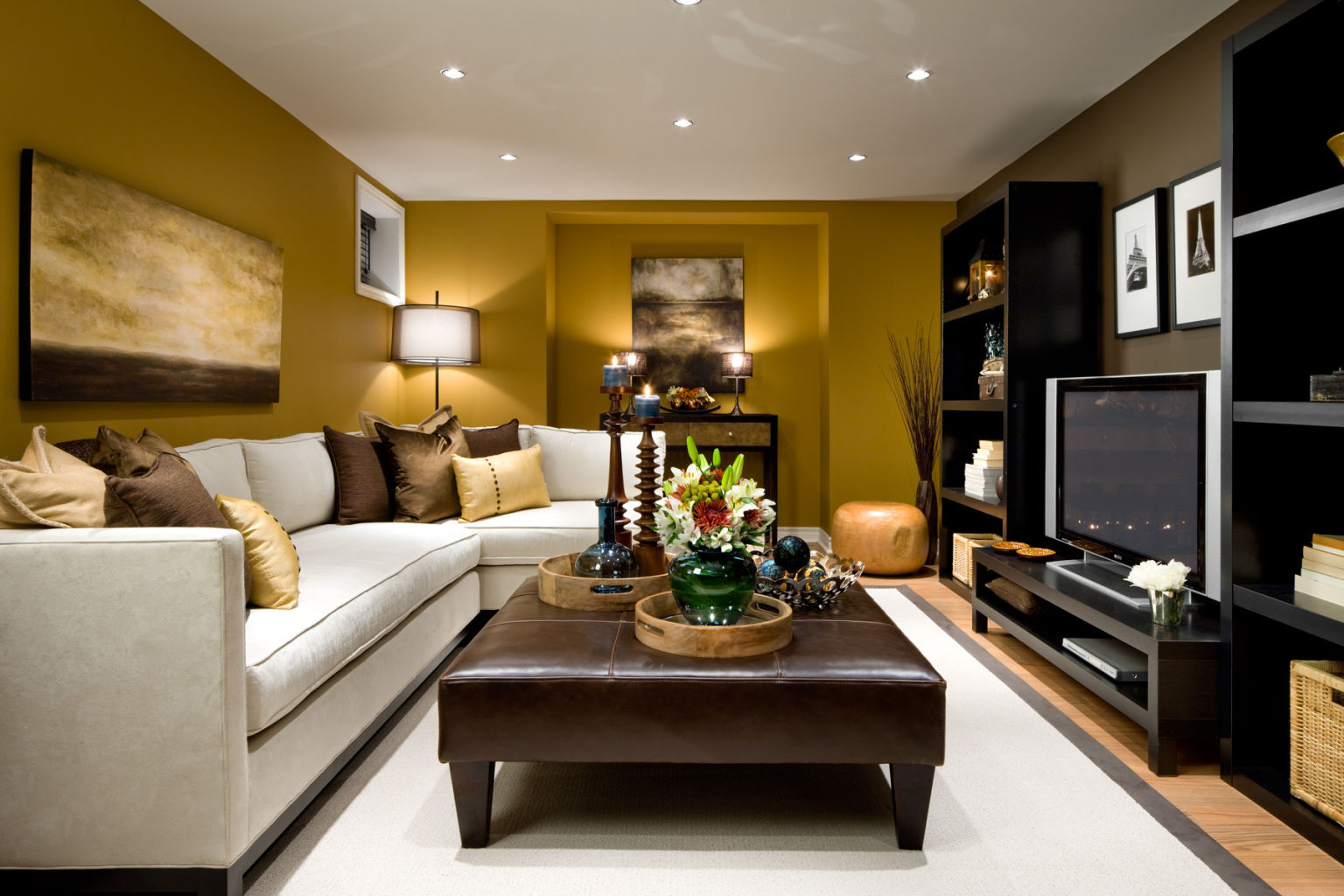 15. Add Height: The stripes on this wall give this room an illusion of greater height, which will always be valuable  in a small space. Each of the furnishings also has a purpose, especially the storage unit on the far wall.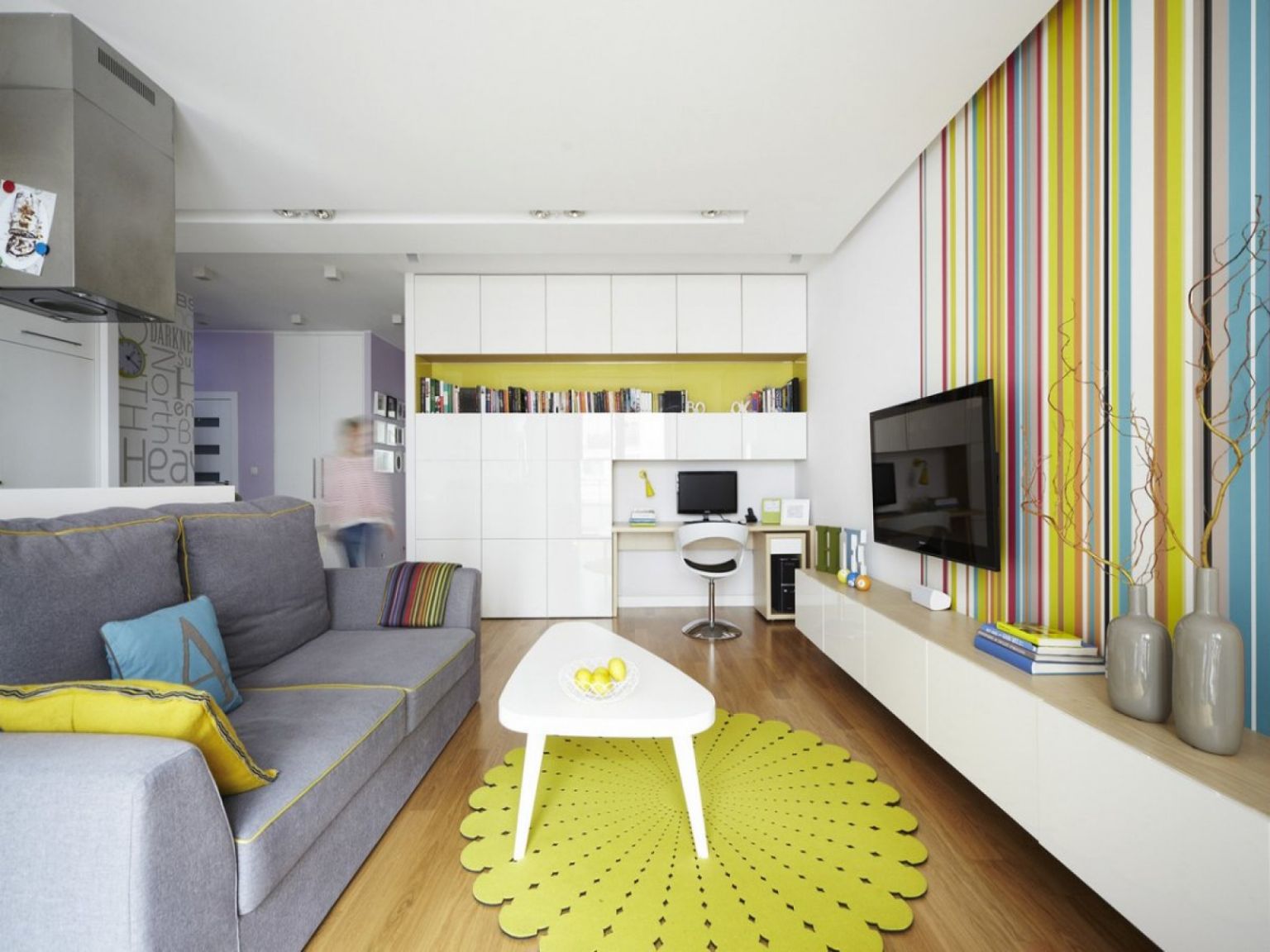 16. Unobstructed Views: Bringing the outside in is a great way to make your small living room shine. If privacy isn't an issue, leave window dressings open or off altogether.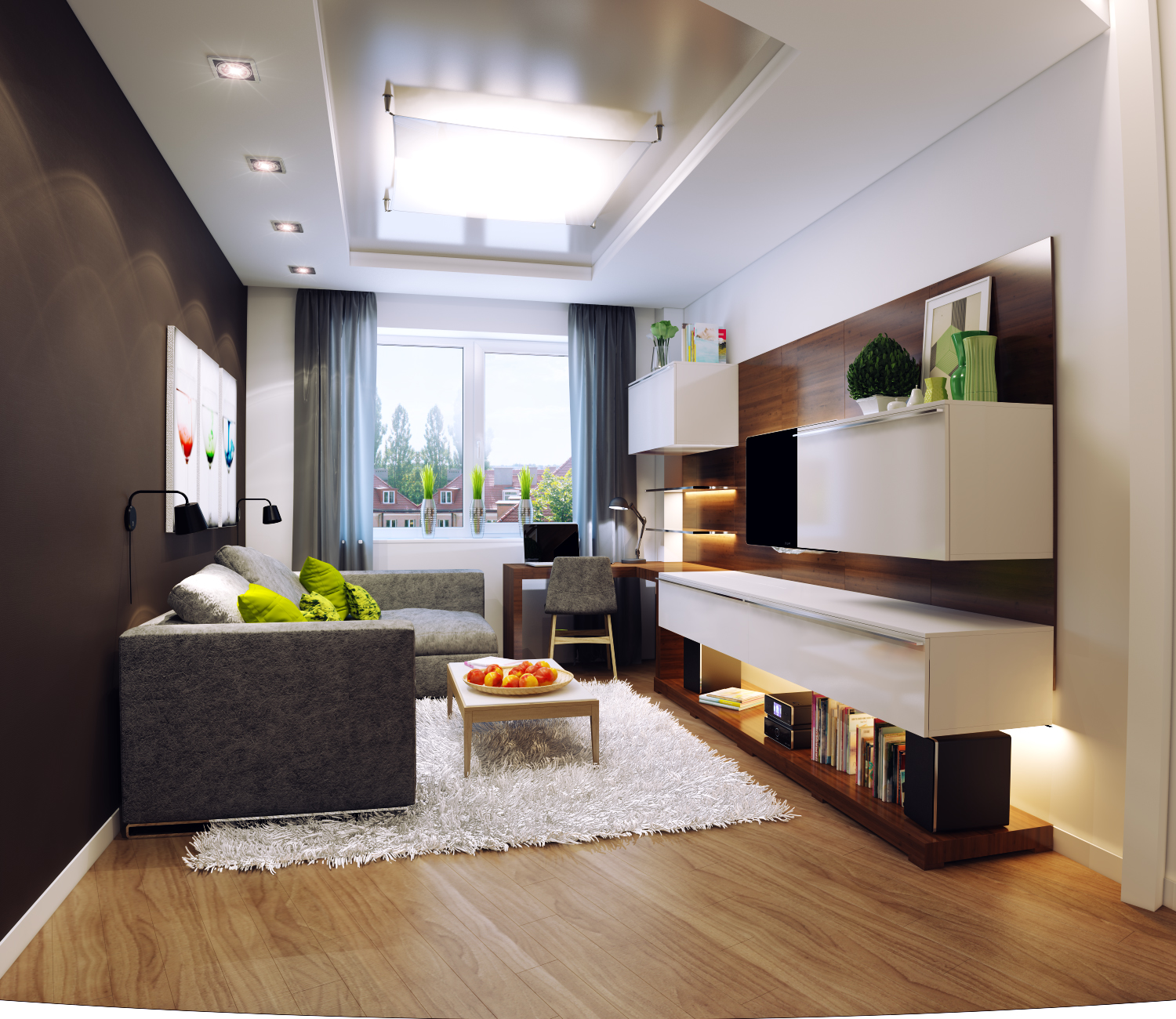 15. Mirror Finish: Decorating with mirrors is a great way to make your room feel bigger. They reflect light and almost create an illusion of being able to look right through them.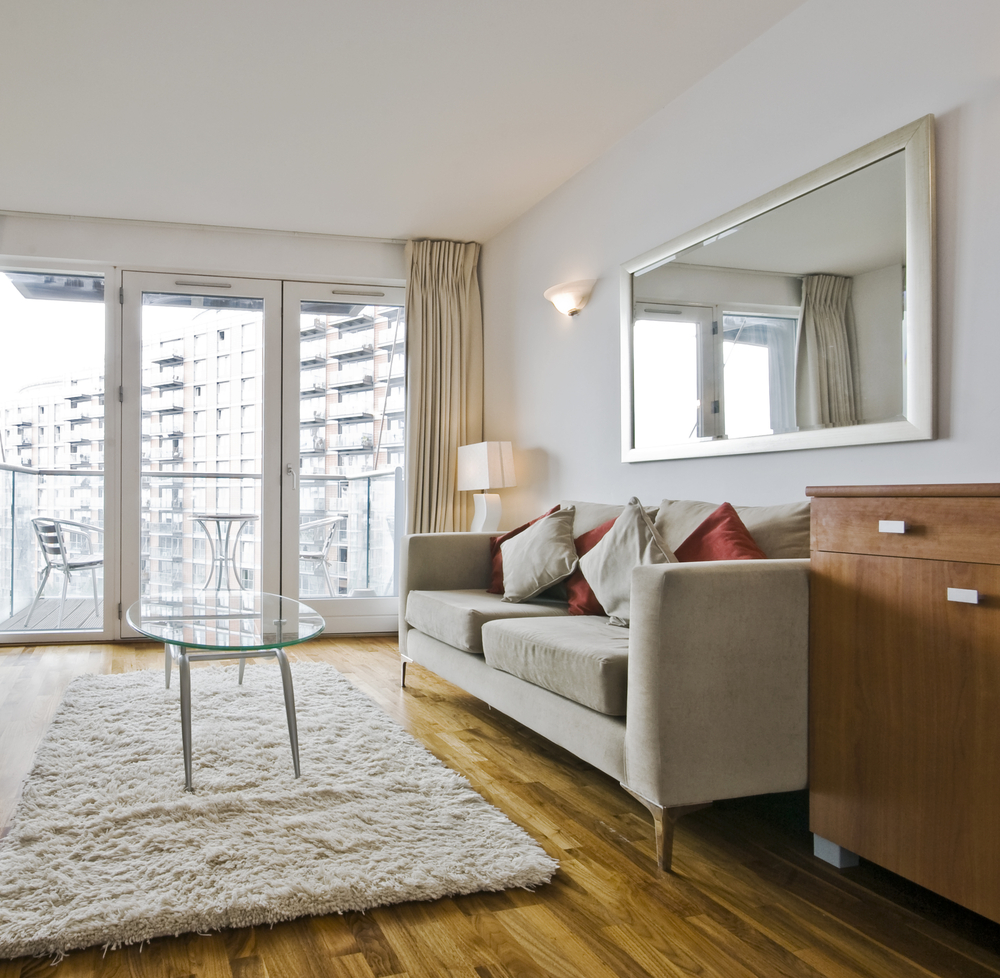 18. Store in Style: Storage furniture can keep your small room uncluttered, while keeping things you use close at hand. Just make sure your storage pieces fit your overall style and are unobtrusive.