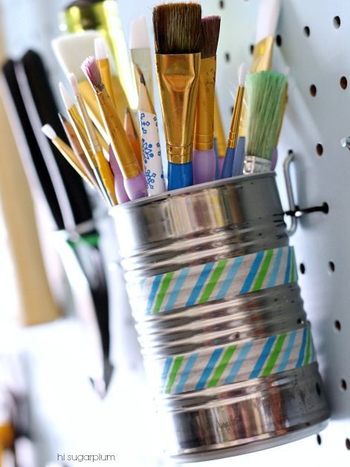 Follow my blog with Bloglovin
For some reason, it's incredibly easy (and common) to let your garage get dirty, messy, and unorganized. Maybe it's because it's a part of the house you don't use much, or maybe it's just because we think it's okay for garages to be messy. Whatever the case, an unorganized garage can be a nightmare. Here are a few awesome ways to organize the garage!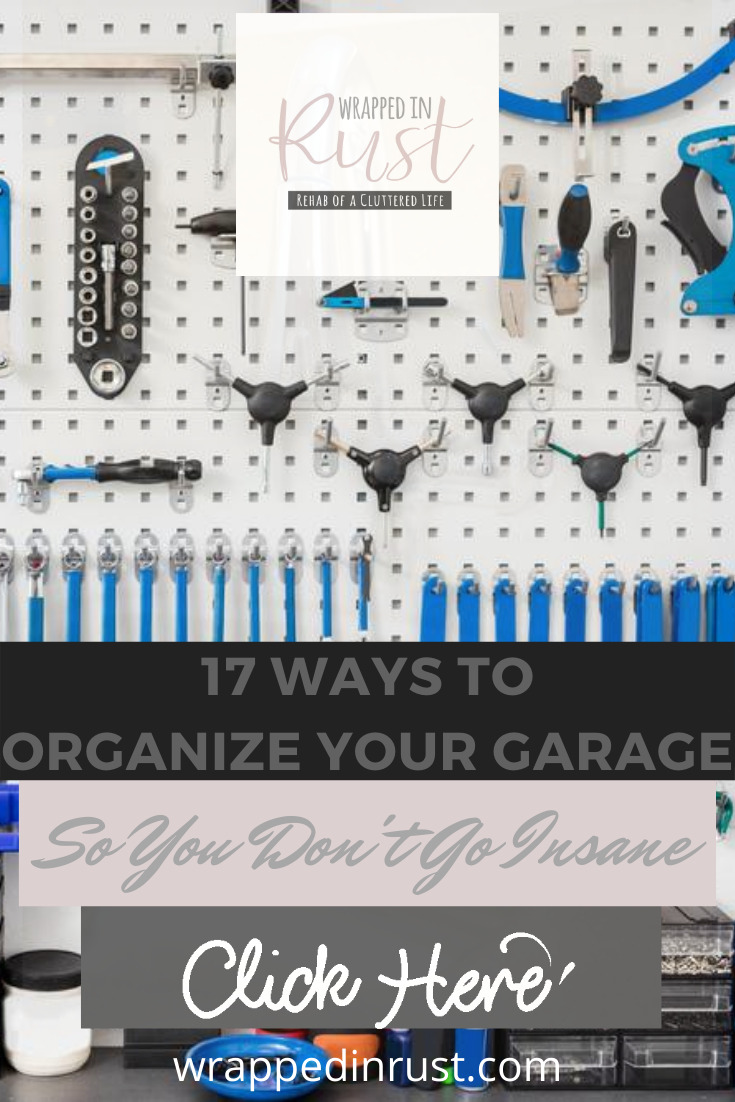 Ways To Organize The Garage
Magnetized Holders
Store random screws, nails, and other small tidbits with some awesome magnetized containers. Just stick the random pieces in the jars, screw the lid on, and then stick them to the magnet!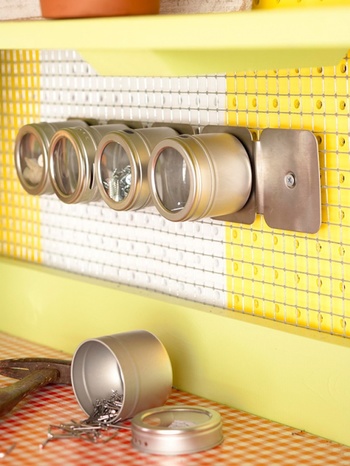 Organized Balls
Having basketballs and baseballs rolling across the garage floor is both dangerous and incredibly obnoxious. Fix this with a few bungee cords stretched vertically to hold all those sports balls!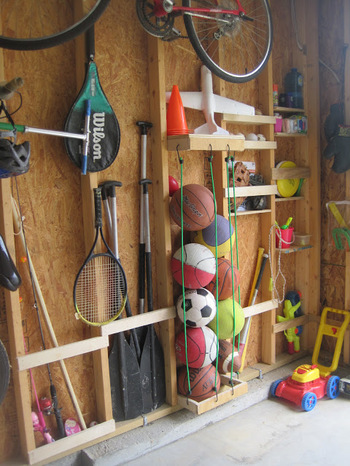 Wheeled Storage
This is a great idea in order to have easy and quick access to any shelves or items that you may need. However, make sure to lock the wheels when you're done moving it or else you can have some pretty bad accidents!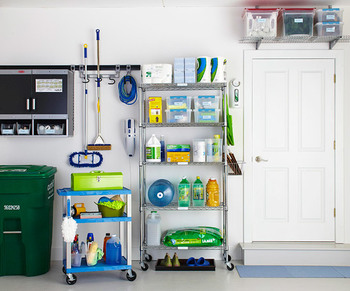 Tape Dispenser
How smart is this! Instead of fumbling around with tape and never getting it ripped right, just make this awesome tape dispenser. You'll never have to worry about messing up the tape ever again! And you can do it with just one hand!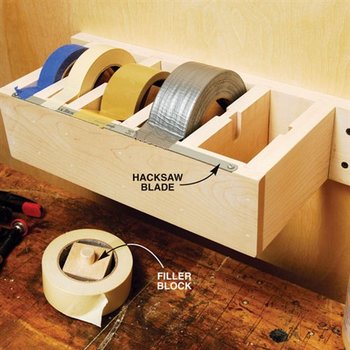 Pegboard
Pegboard is your best friend when it comes to garage storage. You can hang tools, garden equipment, and anything else you find necessary. You can also make some awesome slide out pegboard storage, too, if you want.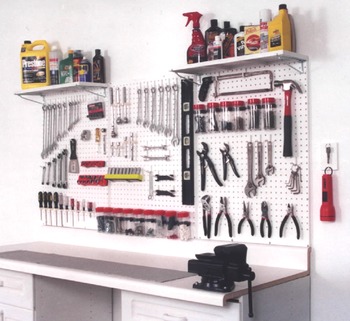 Tool Organizer
Drill some holes into a piece a wood long enough for all your tools. Then, when you aren't using them, just stick your tools in the holes for some awesome, quick, and sturdy storage.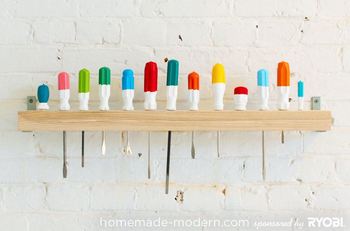 Shovels & Rakes
If you want to keep your garage or shed organized and safe then this is a great idea. Use slices of PVC pipe to safely store away any heavy tools like shovels and rakes so that they don't fall over on accident.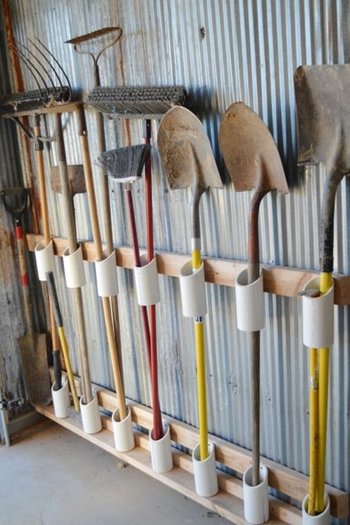 Recycling Bin Hangers
Don't worry about stacking your recycling bins on top of each other and having to maneuver around them in order to put away your recyclables. Instead, build these awesome recycling bin hangers for quick and easy storage and access!
Tin Can Storage
Save your tin cans and then attach them to peg boards to get some awesome storage. Stick random parts or objects in the tin cans in order to have everything organized and not just strewn all over the place.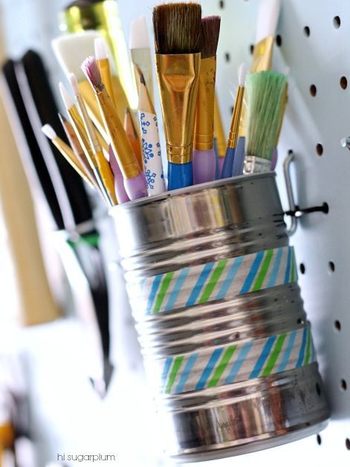 Chair Hangers
Chairs easily take up space and get all over the place. Don't trip over your chairs anymore, just build this awesome chair hanger (which is incredibly simply) and only worry about your chairs when it's time to sit in them!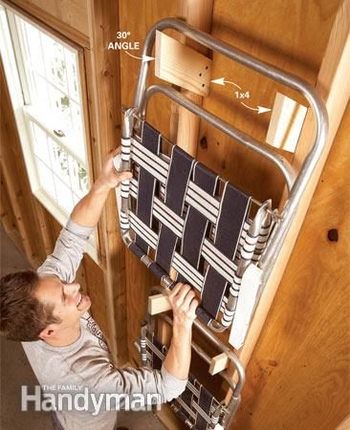 Mudroom in Garage
One way to keep your garage nice and organized is by creating a small little mudroom section. Add some hooks or a cubby system to store coats, shoes, boots, gloves, and anything else that you want to keep in the garage and out of the house. This keep both your home and your garage clean and organized!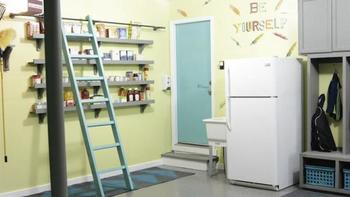 Wheelbarrow Storage
What a great idea! No need to keep your wheelbarrow flat and taking up tons of space. Instead, store it against the wall and add some locks to make sure it doesn't fall over and break!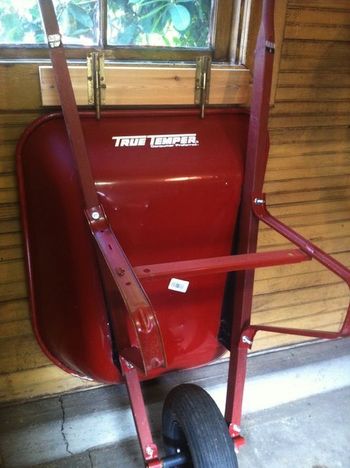 Paint Swatch Organizer
This is such a great and timesaving idea! Instead of taking hours to figure out what color your walls are every time you do something in your home, just create a simple and all-inclusive paint swatch organizer that's labeled for each of the rooms. Super easy and simple to use, and it barely takes up any space.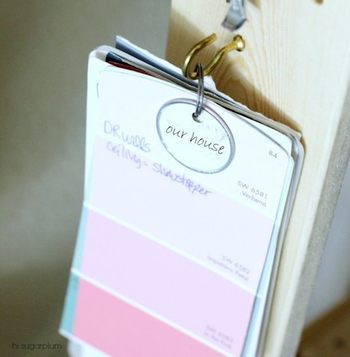 Sliding Storage
If you're really running out of space to store things, then try constructing this awesome hanging and sliding storage space. Garages are usually tall so you don't have to worry about hitting your head and it gives you tons of more places to store things! This is one of my favorite ways to organize the garage!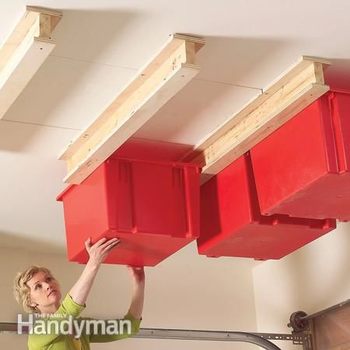 Potting Table
Keep your garden tools and plants organized and separated with a great potting table. You can do all your pre-planting preparation at the table with no problem!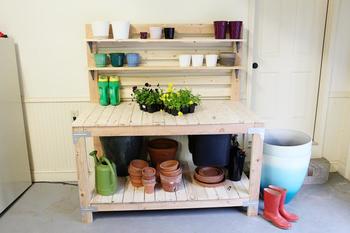 Storage Corral
I love this idea. Use some extra wood and build a little storage corral for all those miscellaneous items in your garage. Divide it into as many sections as you need and label each part so that you and anyone else in your garage knows exactly where everything is and goes.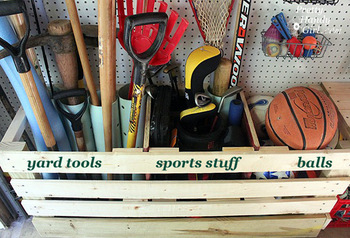 Metal Planter Storage
Use this idea to store all the small things like rags, small tools, and other items that you use on a regular basis for specific tasks. Make as many or as few as you need!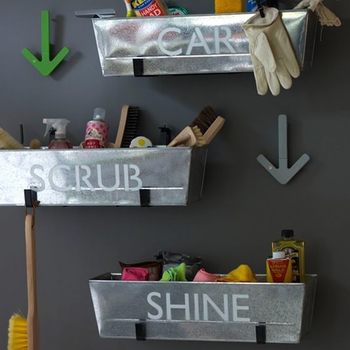 See, there are so many ways to organize the garage! Which one will you try?