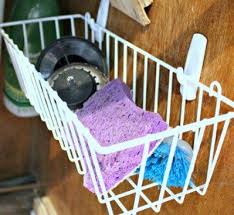 Follow my blog with Bloglovin
When we organize, we most often think of the big things. But sometimes, the little things we do at home to keep things neat and tidy make the biggest difference. Here are some incredibly smart ways to use Command Hooks.
Ways To Use Command Hooks
Organize Lids
The lids that go on your pots and pans don't help you save much space in the cupboard. Use command hooks on cupboard doors to store them on the cabinet door and keep them out of the way.
Hang Oven Mitts
Inside a cupboard, on the side of the fridge, or any place that's convenient. No damage, and no oven mitts and hot pads just laying around!
Hold Styling Tools
What a great way to keep your straightening iron or hair dryer off the counter and out of sight. Use Command Hooks to hang them inside your vanity door.
Hide Cords
Sick of looking at ugly computer or TV cords? Stick a hook on the back side of your desk or TV table and watch them disappear fast.
Road Trip Cleanup
Grab a pack of dollar store gift bags for your next trip, then stick a hook to your dashboard for all those snack wrappers. You could also use a grocery bag!
Bathroom Trash Keeper
We all use plastic grocery bags in those small wastebaskets!  Stick a hook, upside-down, on the outside of the each side of the can. The handles won't get in your way anymore, and the hooks work to keep the plastic bag from slipping. The same idea can work on larger garbage cans without lids.
On A Roll
Want to keep foil and plastic wrap handy, but out of the way? A couple of sideways hooks will free up space while keeping the rolls accessible.
Kid-Proof Fridge
Got a small child who keeps opening the fridge? Keep cold air inside by placing two hooks out of reach, and placing a strong elastic or hair band between them to keep it "locked."
Basket Hanger
Keeping cupboards and closets organized is a cinch if you hang baskets on the inside of the door. Command Hooks provide a damage-free way to keep them in place.
Decorate Your Door
By thinking outside the box, you can hang something on your front door without the hook being seen. Attach it to the back side, then use a pretty ribbon as a wreath hanger. This is one of my favorite ways to use command hooks!
Toothbrush Holder
Currently keeping your toothbrushes on the counter? Hang them in your medicine cabinet by placing a few hooks sideways inside the door. No mess, no clutter. This is also great for the RV!
Shower Helper
You don't have to keep everything on the shelf in your shower. With a set of waterproof Command Hooks, you can hang your loofah, wire baskets, and even a razor.