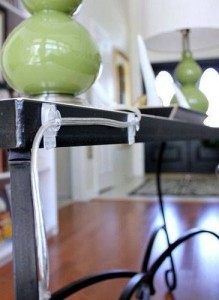 Follow my blog with Bloglovin
We live in a fantastic age. New technology pops up all the time, prompting us to buy new gadgets and devices. The problem is, those devices need to be charged or plugged in, and that leaves us with a mess of cords and cables to deal with. Lucky for us, our minds still have the power to come up with some ingenious ways to hide all that cord clutter. Here is how to hide cord clutter.
How To Hide Cord Clutter
1. Hot Glue a Power Strip
To keep cords off the floor, try hot gluing a power strip to the bottom of your entertainment unit.
2. Strategic Clipping
Run cords along the back edge of a desk or table with some simple adhesive clips or hooks.
3. The Right Stack
Strategic placement of stacks of books or other knick-knacks look like a design feature, but are really there to hide cables. Shhh…we won't tell.
4. Pipe It
If you're not afraid of a minor project, why not hide those cords in the wall instead of draping them across? PVC pipe keeps them together (check local building codes).
5. Go Flat
This ingenious stuff, called FlatWire, makes cables so thin that you can actually paint over them.
6. DIY Cable-Hiding Table
This project isn't too difficult if you have some woodworking tools, and it'll keep cords and cables totally hidden. Here's how to make yours.
7. Binder Clips
Your local office supply, dollar store, or big-box store should have multi-packs of binder clips. These come in very handy for hiding cables and keeping them where you want them.
8. Build a Hidden Cubby
You can mount your TV on a hinged door that hides a cubby, which keeps equipment and cords conveniently out of sight.
9. The Old "Power Strip in a Drawer" Trick
Sick of waking up to a bunch of wires on your night stand or an end table? Hide a power strip in the drawer. You might need to make a notch in the back of the table.
10. Under Wraps
Ever heard of a shower rod cover? Neither had I, but they do exist! And if you ask me, they exist to hide those cords hanging down from your TV. It's easy to do, and they're super cheap — less than $3!